Scotts Osmocote® Boost+Feed Cacti & Succulents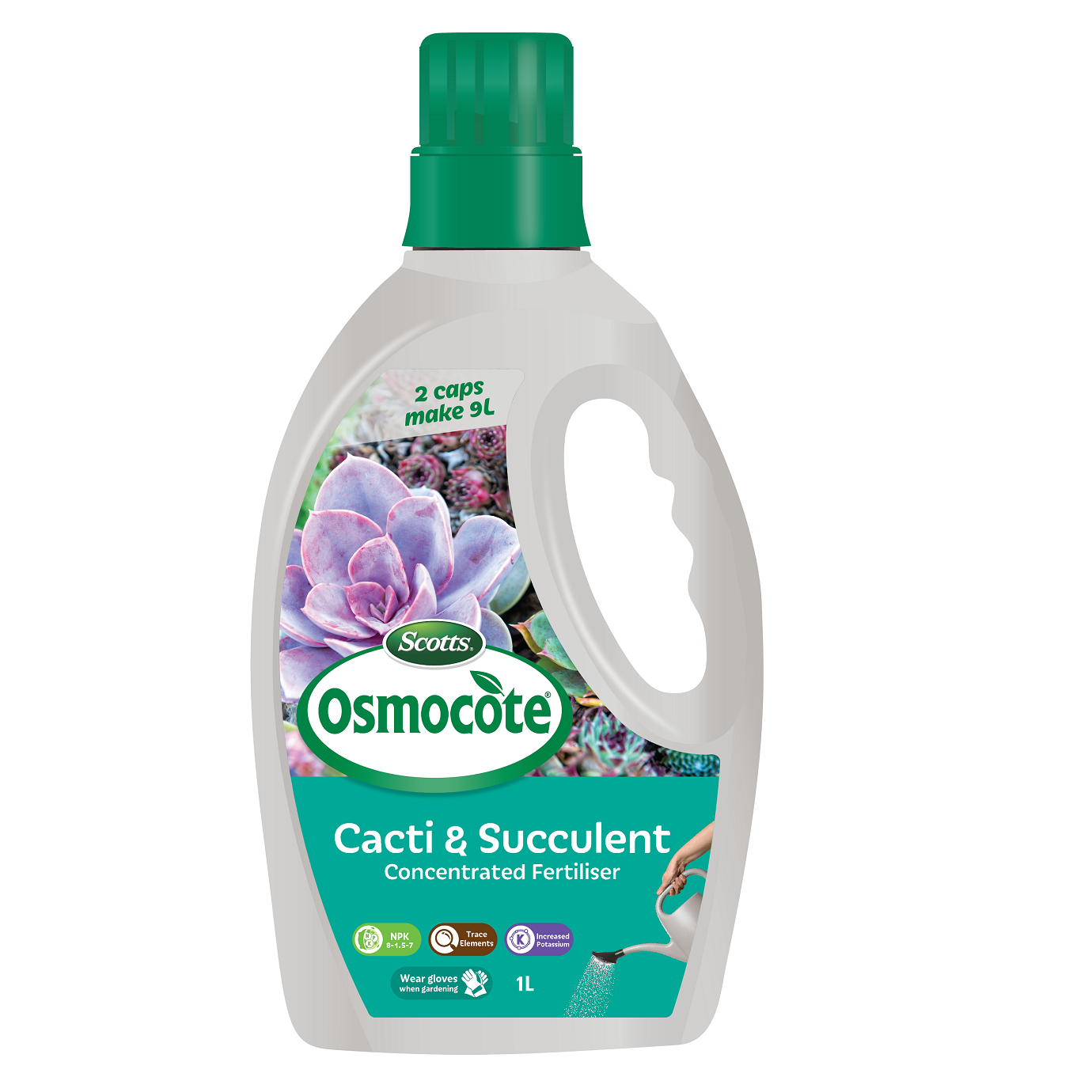 Scotts Osmocote® Boost+Feed Cacti & Succulents
Easy to use unique formula that is carefully balanced formula with low nitrogen and high potassium to promote steady growth and flowering while improving resistance to pests and disease. Its double action works through the roots and leaves, so your plants absorb nutrients within minutes
FEATURES
Provides an instant boost of nutrients through rapid root and leaf absorption for strong, healthy growth
Includes a blend of biostimulants resulting in lots of earthworms and soil microbes that build healthy soils and productive, vigorous plants
Can be applied at any time of the year when plants are actively growing. Avoid using when temperatures are expected to exceed 30C
Concentrate 
The 1L Concentrate is the better option for large or difficult to reach areas where a watering can or pump sprayer may be easier to use. It makes up to 450L 
SUITABLE FOR
All cacti and succulents including natives - it has a low phosphorus content
Potted cacti & succulents
NOT SUITABLE FOR
Do not use on lawns - use only specifically named fertilisers on grassed areas
Do not apply to young cacti and succulents or other indoor plants
HOW TO USE
Concentrate:
The 1L Concentrate comes with a measuring cap; add 2 capsful to 9 litres of water in a watering can
The concentrate can also be used in a pump sprayer. Use the same dilution rate as for the watering can
WHEN TO USE
Apply to soils at planting time
Apply when your plants need a boost, particularly during main growing periods – early Spring, early Summer and early Autumn
CONCENTRATE
Situation

Quantity in 9L Watering Can

How Often

Garden Beds & Pots
50-100mL (2 caps)

Apply every 2 or more weeks

Soak the soil around the plant to feed the roots

Foliar feeding every 2 or more weeks 

Wet the leaves and soak the soil
SAFETY INFORMATION
CAUTION: This product may cause staining of hard surfaces if wet. Avoid contact with hard surfaces and if contact does occur, hose off immediately
SAFETY FIRST: Read the instructions on the product packaging before use and take particular note of any warnings or cautions on the label
See the Safety Data Sheet for the Easy Sprayer Hose-on
Health and Safety
Always read the pack label and product instructions carefully before use. For further information relating to product safety please review the product data safety sheet link below.