Scotts Osmocote® Plus Organics Liquid Fertiliser & Soil Improver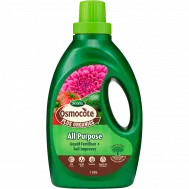 Scotts Osmocote® Plus Organics Liquid Fertiliser & Soil Improver
An easy to use fertiliser that has the long feeding benefits of traditional Scotts Osmocote® but with the ease of use of a liquid fertiliser. It has added organics to boost soil and plant health and feeds the entire garden continuously for up to 3 months
FEATURES
Unlike most liquid fertilisers that give one instantaneous 'hit' of food to plants, this is a slow-release formulation that not only releases nutrients over a three month period but also spreads and sticks to plants and the soil.
Contains soluble Scotts Osmocote® as well as biostimulants, fish and seaweed for larger, healthier plants that resist diseases and insect attacks
Feeds soils and plants by including a blend of seaweed and biostimulants resulting in lots of earthworms and soil microbes that build healthy soils and productive, vigorous plants
Can be applied any time of the year when plants are actively growing
World-leading innovation that feeds continuously for 3 months
It goes to work immediately and is effective whether applied to the soil or leaves
Concentrate
The 1L Concentrate is the better option for large or difficult to reach areas where a watering can or pump sprayer may be easier to use. It makes up to 300L
SUITABLE FOR
All trees and shrubs including natives and other phosphorus-sensitive plants - it has zero phosphorus content
All flowering and leafy annuals, perennials, climbers and groundcovers
All vegetables, herbs and fruits
Potted plants including vegetables, herbs, palms and indoor plants
Safe to use on new plants in the garden or in pots indoors or out - its gentle slow-release formulation will not burn young leaves or roots
HOW TO USE
When using the Concentrate:
The 1L Concentrate comes with a measuring cap that will dispense 30-50ml, the amount required for 9 litres of water
The concentrate can also be used in a pump sprayer. Use the same dilution rate as for the watering can
The table is a guide for using the Concentrate in specific situations:
Plant Type

Quantity

How Often?

Seedings & Cuttings
Mix 30ml (2/3 cap) in 9L water
Apply every 4 weeks
Vegetables & Flower Garden Beds
Pre-plant: Mix 50ml (1 cap) in 9L water
Prepare the bed for planting then soak the soil
 
Established Beds: Mix 100ml (2 caps) in 9L water
Soak the soil around the planted areas
Fruit Trees & Vines including Citrus, Peach, Grapes & Passionfruit
Mix 100ml (2 caps) in 9L water

Soak the area at the 'drop line' (under outer leaves)

Apply every 4 weeks during the growing season 

Potted Plants - Indoor & Outdoor
Mix 50ml (1 cap) in 9L water
Water pots with the mixed solution once every 4 weeks
WHEN TO USE
Use any time of the year
Soil and air temperatures do NOT affect the release of nutrients so it can be used in winter to boost plants that are actively growing during the colder months
SAFETY INFORMATION
CAUTION: This product may cause staining of hard surfaces. Avoid contact with hard surfaces and if contact does occur, hose off immediately
SAFETY FIRST: Read the instructions on the product packaging before use and take particular note of any warnings or cautions on the label
See the Safety Data Sheet for the hose-on
TECHNICAL DETAILS
NPK 22 : 0 : 2
It also contains growth stimulants, fish emulsion, seaweed extract and humic compounds (See pack for more details)
Safe to use on all edibles
World-leading and innovative active ingredient methylene urea is a slow-release liquid form of nitrogen that sticks to plants and soil particles 
Health and Safety
Always read the pack label and product instructions carefully before use. For further information relating to product safety please review the product data safety sheet link below.