Scotts Pure Organic™ Premium Potting & Planting Mix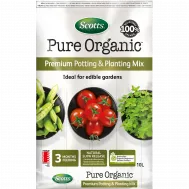 Scotts Pure Organic™ Premium Potting & Planting Mix
Edible gardens made easy. Grow the best vegetables and herbs you'll ever taste the way nature intended - in Scotts Pure Organic Potting & Planting Mix. Made from top quality 100% natural and organic materials, it's ideal for the gardener who wants a high-performance mix that delivers outstanding results while taking care of the environment
FEATURES
Registered with Australian Certified Organic as a 100% organic mix
Environment friendly premium blend of natural materials encourages earthworms and beneficial soil microbes, creating healthy growing conditions
Everything in this premium mix comes from sustainable and renewable sources
Whether used in pots or added to garden soils, this mix is as close to the perfect growing medium for all types of plants as you're ever likely to find
Includes chicken manure, blood & bone, fish meal and bio stimulants - all in a low odour formulation
SUITABLE FOR
Pots, planters, hanging baskets, planter boxes and raised garden beds
All vegetables, herbs, fruit trees and ornamental annuals, perennials, trees and shrubs
NOT SUITABLE FOR
Don't use in hydroponic growing systems or ponds
Don't use on lawns - use only specifically named lawn topdress soils on grassed areas
HOW IT WORKS
Scotts Pure Organic Premium Potting & Planting Mix provides the ideal moisture and nutrient environment for healthy, strong and productive plants
It has been designed and is guaranteed to grow better plants from potting to flowering or fruiting
HOW TO USE
Beds & Borders

Make a hole in the garden bed, twice the size of the root ball
Place plant in the hole, fill around with the mix
Firm around the base then water well

Pots & Planters

Fill a container with the mix to just below the rim
Sow seeds, following instructions on the pack
Water gently. Ensure seeds are kept moist but not too wet

All containers: Seedlings & plants

Fill a container with the mix to 2-3cm below the rim
Make a small well the size of root ball and place plant in mix; backfill with more mix
Firm lightly around the base, then water well 
For a complete guide on how to use Scotts Pure Organic products, watch the video on this page and always check the packaging
WHEN TO USE
Scotts Pure Organic Premium Potting & Planting Mix can be used at any time of the year when building raised beds or using as backfill when planting out
Repotting established pot plants is best done either in Spring or Autumn - avoid winter or summer as the extremes of temperature may stress plants
Flowering plants should be repotted after they have flowered - enjoy the blooms first!
SAFETY INFORMATION
CAUTION: This product may cause staining of hard surfaces if wet. Avoid contact with hard surfaces and if contact does occur, sweep off immediately
When using potting mixes, we recommend the use of garden gloves to protect your hands
SAFETY FIRST: Read the instructions on the product packaging before use and take particular note of any warnings or cautions on the label
See the Safety Data Sheet for this product
NATURAL AND ORGANIC INGREDIENTS
Blood & Bone: High in organic nitrogen and phosphorus for healthy leaf growth and root development. High in calcium for stronger stems
Fish Meal: High is slow-release nutrients and micronutrients that feed your plants and healthy biotics that improve soil structure
Seaweed: Improves overall health and increases resistance to drought, frost, diseases and insect attacks
Chicken manure: Rich in nitrogen, phosphorus and potash - supplies your plants with vital nutrients and amends your soil with a boost in organic materials
Feather meal: High in slow-release nitrogen - provides plants with slow-release feeding
Bio Stimulants: Act as soil and plant conditioners and maximise nutrient availability and uptake
This product also contains iron sulphate for the prevention and correction of iron deficiencies in plants. Iron sulphate is an 'allowable' input in 100% organic potting mixes and plant foods
Health and Safety
Always read the pack label and product instructions carefully before use. For further information relating to product safety please review the product data safety sheet link below.