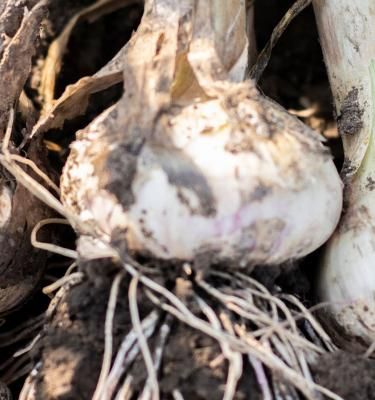 How to grow garlic
Growing garlic at home is now very popular. It's an easy vegetable to grow - just plant a garlic clove into the soil, wait a few months and you'll be rewarded with a bulb of up to a dozen or more cloves ready to use in the kitchen.
When to grow
Plant: April to July (traditionally on the shortest day of the year)
Harvest: November to February (traditionally on the longest day of the year)
Grow your plant
Begin by splitting the bulb carefully into individual clove segments, and then gently push each clove into the soil so the tip is just below the soil surface, with the pointed end of the clove upwards and the flatter basal plate facing down. Allow a gap of 15cm between each clove and 20-30cm between rows.
Planting in the garden
Garlic does best in a fertile, well-drained soil in position that receives full sun for most of the day. The bulbs need a period of cold weather in order to initiate growth, so the best time to plant garlic is in autumn.
Step 1
Before planting garlic, prepare the soil by digging in Scotts Osmocote® Compost & Soil Improver and removing any weeds.
Step 2
Apply Scotts Sheep Pellets and dig into the soil.
Step 3
Break the garlic bulbs into individual cloves and plant cloves 15cm apart and with the tip just below the surface and pointing upwards. Space rows 30cm apart.
Step 4
Water after planting, to help settle the soil around the cloves.
Tip
Protect your garlic from the elements with Scotts Pea Straw Mulch, keeping it moist and cool as it grows.
Planting in pots and containers
Garlic will grow happily in containers outdoors, and this is a good option in gardens where the soil is very heavy and wet or where space is limited.
Step 1
Choose a container at least 30cm in diameter and 20cm deep, with good drainage holes.
Step 2
Fill with Scotts Osmocote® Premium Potting Mix.
Step 3
Plant the cloves 10-15cm apart and 2.5cm deep, with tips just below the surface and pointing upwards. Don't plant bulbs right up against the edge of the container - leave enough space for them to swell as they grow.
Step 4
Water regularly to keep the potting mix moist.
Tip
Feed with Scotts Osmocote® Controlled Release Fertiliser: Tomato, Vegetable & Herb in spring.
Caring for Garlic
Once planted, garlic doesn't need much looking after. Just follow these simple steps for a good crop:
Keep beds weed-free. Remove weeds by hand to avoid damaging the bulbs with a hoe.
Water during long dry periods.
About a month before harvest reduce watering.
If flowers appear (called scrapes) remove these so the plants energies go into the developing bulb. Use the scrapes in stir fries.
Harvesting Garlic
While garlic is growing, you can harvest a leaf now and then to add to salads, but don't take too many at a time from any one plant. The garlic bulbs themselves should be ready to harvest from early summer.
To know when to harvest garlic, look at the plants' leaves - when they turn yellow, the garlic is ready to be harvested.
Use a garden fork to gently lift the bulbs from the soil or simply upend pots to harvest garlic grown in containers.
How to store garlic
Before storing garlic, lay the bulbs outside in the sun on a rack, or inside in a well-ventilated shed, to allow them to dry out. This will take two to three weeks.
Once the skins are dry and papery, the bulbs are ready to be stored. Remove any damaged or bruised bulbs.
Store garlic bulbs in a string bag or plait the leaves and hang them in a cool, dry, dark place.
Common garlic diseases
Although garlic is easy to grow, there are a few diseases that can cause problems.
White rot is a fungal disease that rots garlic bulbs and causes leaves to turn yellow and die. Unfortunately, there's no treatment available for this. Burn all affected plants and don't plant garlic or other allium bulbs in that soil for at least eight years.
Leek rust, another fungal disease, causes orange blotches on leaves. Mild cases will not necessarily affect the crop but remove any infected leaves as soon as you see them and burn or dispose of them (but not into the compost). Leek rust is more common in long periods of wet weather and on overcrowded plants. Avoid planting garlic or other alliums in affected soil for at least three years.