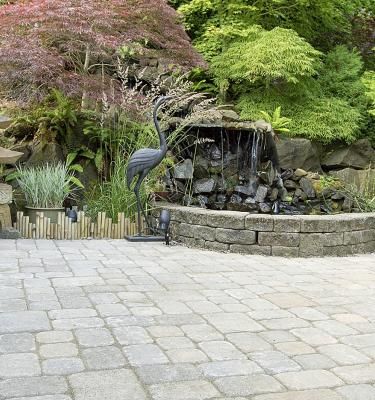 If you are looking into designing and building your own garden patio, you'll need some ideas.
There are some obvious advantages in having a patio:
Stress-free maintenance - it is easy to maintain your patio area.
Patio comes in various designs and colour schemes.
Longer lasting - patios can have a long lifespan.
Many designs to suit a variety of properties.
There are a wide range of patio designs ranging from intricate patterns that are bespoke to you or a minimalistic design that is distinguished and stylish. You don't even necessarily have to hire professionals to build your own patio.
Key things to think about when designing your patio
There are many things you would need to consider when designing your own garden patio. First thing you should to consider with your patio is regarding the space that you have available to lay patio in your garden.
There are many designs that can look very different depending on the size of your patio. Patios come in all different sizes and depending on the space you have available, and can be a factor in which design of patio would look best in your garden.
Deciding on what size your patio should be is imperative. Obviously, garden size is a key factor, but making sure you pick the right size area for your patio in your garden can be tricky. If you would only like a small patio area for instance, there is no reason why you cannot have a chic patio that really has the wow factor.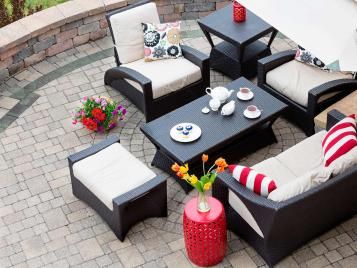 How do you decide on this? You need to work out what your main activities will be on your patio. Whether you will be using it to host barbecues for your family and friends or whether you will be relaxing in the sunshine on your own with perhaps some reading material and just sunbathing! You will have to roughly work out how many people will be using the space on a regular basis and the kind of furniture you are looking to move onto your patio.
There are so many different patio designs you can consider for your garden. Let's take a look at 10 different designs…
1. Split level patio
A great idea to really give your patio area a cutting edge is to perhaps add another level to your garden area and create a 'split level' patio. This would be an ideal way of perhaps dividing your dining area away from a 'lounging' or sunbathing area. This would also create a spectacular look for your garden. A separate level for the patio area would also divide your house from the rest of the garden allowing you a little more freedom for creativity for floral arrangement away from the house!
2. Brick patio
Of course the shape of your patio area can determine this. If you have a circular area for your patio, you can incorporate a pattern into your patio area (rounded patio to be covered later!). If your chosen material for your patio is brick, then you can choose a brick work pattern that would complement your garden quite nicely. In fact brickwork tends to be one of the more popular choices for a driveway as well as a garden patio because of the way the design can hold its colour and display longevity over other patio materials. And with a curved patio in particular, brickwork can look very stylish.
3. Mosaic patio
If you really want to impress your friends and family with your patio design, then look no further than designing your patio with mosaic tiles. Mosaic patio tiling can prove to be very spectacular when designed with a specific pattern or even with a flash of artistic flair in recreating a picture or symbol that means something to you. You could recreate a piece of artwork, or a logo that you think will add something a little different and bespoke to your garden.
4. Stone patio
Natural stone can come in a variety of different styles- slate, quartzite, bluestone, yorkstone, limestone and flagstone but to name a few. Natural stone can cost a fair bit more as it is quarried and would need to be shipped in. The style of patio design you can go for would differ dramatically depending on the natural stone you have chosen. If you had a limestone design in the house then you may want to continue the theme on your patio.
5. Poured concrete patio
I'm going to be honest with you; personally, I think that a poured concrete patio floor can be quite drab and very plain and would also need a fair amount of maintenance and is also a type of patio can discolour very quickly. The price of laying such patio would come in as fairly cheap compared to other materials but would certainly not turn the heads of guests to your garden. That being said, if you are looking for an option to house an array of outdoor furniture or perhaps an area for entertaining the kids, then this option could be for you.
6. Rounded patio
With a rounded patio, you can create a focal point for your garden. You can use the design to bring in a table and dining chairs, fire pit or a barbecue to act as a centrepiece for your rounded patio design. Your rounded patio design can blend seamlessly into the design and background to your garden. Of course, this does depend on the space you have planned for your garden patio.
7. Square patios
The square design is the most common shape for a patio. If you were looking for the most cost-effective design for your patio, you would look into a square, poured concrete patio. A square patio is the perfect type of patio to host large groups, so for instance, if you are someone who likes to host barbecue parties or just garden gatherings in general then the square shaped patio may be a very good purchase for you!
8. Paved slab patio
Paved concrete slabs can withstand changes in temperatures and have a fairly long lifespan. Similar to poured concrete in the sense that it is a fairly plain choice for your patio; it is still cost effective and can provide a solid patio choice. Although paved slabs do not offer versatility with regards to creating a bespoke pattern for your patio design.
9. Free-form patio
There are a lot of different varieties of free-form patios as they are not defined by a definite shape and can be characterised by sweeping curves, broad distances and differing angles. Usually asymmetrical and tend to be involved in unique or original garden design ideas. If you were looking into using mosaic tiling for your patio floor you may look at coupling that with a free-form design for your garden. You may also look at free form patio if you are including a swimming pool in your garden.
10. Mixed design patio
You may look at creating a hybrid of a few different designs for your patio. Perhaps you would like a brick-work perimeter to surround a patio of concrete paving slabs. You may also want a rounded design in the centre of your garden to be used as a focal point for your barbecue with a mosaic style patio floor surrounding your circular limestone patio design. You may think that a mixed patio floor could fit in with your overall garden design!
So that's it! There are almost an infinite number of ways you can create you own patio to give your garden a unique personal feel.