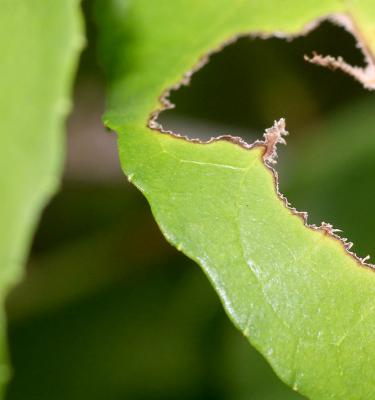 What is shot hole?
There are numerous reasons for the appearance of holes in leaves, including poor growing conditions, environmental stress, insect pests feeding on foliage and even droplets of water acting as a magnifying glass in strong sunlight.
But a specific type of hole, called 'shot hole', is caused by a couple of plant diseases which create leaf spots after which the damaged area falls away, leaving a hole. The condition is also known as coryneum blight.
One of the hole diseases is a leaf spot fungus (Stigminia or Eupropolella). Shot hole on laurel and cherry tree leaves is likely to be caused by a bacterial canker (Pseudomonas syringae) which affects edible and ornamental members of the Prunus family, including plums.
How to identify shot hole?
Leaves are peppered with small round holes and look as if they have been blasted with shotgun pellets. There is often a faint yellow or brown ring around the edge of each hole.
Where there are large and irregular shaped holes in the leaves, this is probably not shot hole and is likely to be caused by insect pests eating the foliage.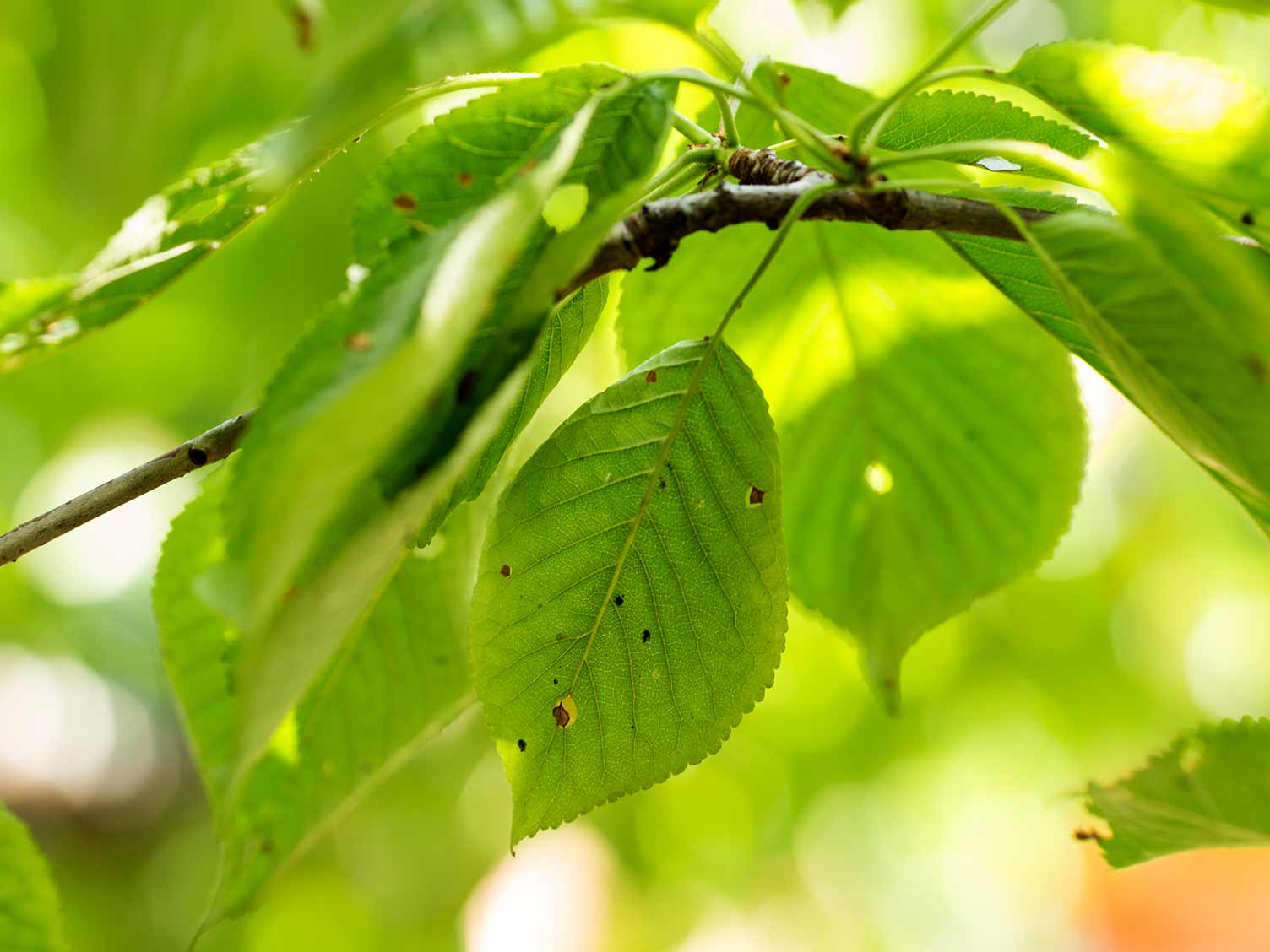 Shot hole symptoms and damage
Brown spots develop on leaves, after which the damaged area drops out, leaving round holes in the leaves. Some fungal leaf spot fungi cause larger brown patches, which fall away giving the leaf a ragged appearance. Sometimes you can see traces of fungal growth.
Shot hole treatment and control
Where the damage is very unsightly, trim off affected leaves which will encourage new growth, but avoid heavy pruning which stresses the plants and might make the problem worse.
Spray with a fungicide, repeating as recommended to treat fungal leaf spot disease on laurels and other ornamental members of the Prunus family. There are no chemicals approved for control of diseases on edible plants.
If the shot hole is caused by bacterial canker, treatment with a fungicide is ineffective.
How to prevent shot hole?
Improve the plant's growing conditions, to strengthen the plant and make it less vulnerable to disease.
When you buy a new edible Prunus tree, choose a variety with some resistance to disease: Cherries: 'Merton Glory', 'Merton Premier', 'Merla' and 'Merpet'. Plums: 'Marjorie's Seedling' and 'Warwickshire Drooper'.