Levington® Decorative Chipped Bark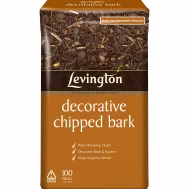 Levington® Decorative Chipped Bark
Levington® Decorative Chipped Bark is perfect for low maintenance garden as its chips are larger in size and last for longer. It suppresses weeds and aids moisture retention while decorating your beds and borders.
BENEFITS
Larger pine wood chips, perfect for low maintenance gardening
Great for decorating beds and borders
Suppresses weeds 
Aids moisture retention
Fresh Pine aroma
100% natural by-product
HOW TO USE
Remove all weeds from the bed or border.
Apply when the soil is moist.
Spread a layer of Levington Water Saving Decorative Bark (5cm) 2 inches deep around plants.
HOW OFTEN TO APPLY
Use as required, for best results ensure the ground is wet before applying.
WHERE TO USE
For decorating borders, containers and paths.
SHELF LIFE
Store in a cool dry place, away from the sun. Open Bags carefully and reseal bag after use.
CAUTIONS
Use in a well ventilated place and avoid breathing in dust. Always wear gloves when gardening and then wash your hands after use.
Always read the label and product information before use.