Levington® Decorative Chipped Forest Bark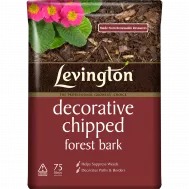 Levington® Decorative Chipped Forest Bark
Levington Decorative Chipped Forest Bark is perfect for decorating beds and borders. This product contains long lasting, larger size chips of bark which suppresses weeds and aids moisture retention. A 100% by-natural product.
HOW TO USE
Weed suppression: 
Prepare the site by removing all the weeds.  This can be done either by hand or using a weedkiller.  Remember always read the label.  Use pesticides safely.

If required apply Miracle-Gro Continuos Release Plant Food before laying down the bark.  

Lay and spread the bark evenly over compost to a thickness of 25mm to 50mm (1"-2"), this can be achieved by either using a rake or by hand. 

For most effective weed suppression, the minimum depth needs to be 50mm (2").  Ground cover fabric can also be laid over the soil prior to laying the bark.  
Mulching:
Use as a mulch around your shrubs, in flower beds also containers to keep in valuable water and suppress those weeds.

Using a fork or even your hands spread an even layer about 25mm to 50mm (1" - 2") of the bark over the compost or soil.

 
WHERE TO USE
Decorates beds and borders.
CAUTIONS
Use in a well ventilated place and avoid breathing in dust. Always wear gloves when gardening and then wash your hands after use.
Always read the label and product information before use.
RECYCLING & HANDY HINTS
DID YOU KNOW THAT YOU'RE PART OF ONE OF THE WORLD'S LARGEST RECYCLING EFFORTS?
Each year, Evergreen Miracle-Gro resuses thousands of tonnes of material from gardens and forests in many of our compost mixes, to help you grow plants that enhance your environment and make the World more beautiful.
Health and Safety
Always read the pack label and product instructions carefully before use. For further information relating to product safety please review the product data safety sheet link below.