Levington® Essentials Blended Manure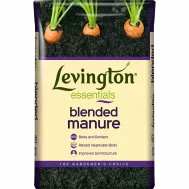 Levington® Essentials Blended Manure
Levington Essentials Blended Manure is perfect for beds and border and ideal for vegetable crops. It is enriched with Organic matter which helps to improve the soil structure. 
HOW TO USE
Beds and Borders:
Spread a 5-8cm (2-3 inches) layer beneath the branches of roses, shrubs, fruit trees and bushes.  Allow a 5-8cm (2-3 inches) gap around stems.  This 100% organic
 mulch 
will help the soil retain moisture, suppress weeds and release food to surrounding plants.
 
Before Sowing and Planting:
Fork in the manure liberally to the soil surface and to the bottom of planting holes, drills and trenches for an abundant crop of flowers, fruit and vegetable.  Improve the soil used to fill planting holes and trenches with one part Levington Essentials Blended Manure and two parts existing soil.
Soil Improvement:
Spread 5-8cm (2-3 inch) layer over the surface and dig in.  This will improve drainage and structure of clay soils and the fertility and moisture holding capacity of sandy and chalky soils.
 
Vegetable Plots and Allotments:
In spring spread a 5-8cm (2-3 inches) layer over soil and dig in before sowing or planting.  On heavy clay soils, repeat when winter digging.
WHERE TO USE
Ideal for beds and borders, plus raised vegetables beds.
CAUTIONS
Always wear gloves when gardening and wash hands after use.
Always read the label and product information before use.
RECYCLING & HANDY HINTS
DID YOU KNOW THAT YOU'RE PART OF ONE OF THE WORLD'S LARGEST RECYCLING EFFORTS?
Each year, Scotts Miracle-Gro resuses thousands of tonnes of material from gardens and forests in many of our compost mixes, to help you grow plants that enhance your environment and make the World more beautiful.
Health and Safety
Always read the pack label and product instructions carefully before use. For further information relating to product safety please review the product data safety sheet link below.