Levington® John Innes No.1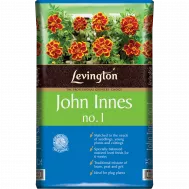 Levington® John Innes No.1
Levington John Innes No.1 is perfect for seeds and seedlings, plug plants and rooted cuttings. This product is a traditional mixture of loam, peat and grit and its special balanced nutrient mix feeds for up to 6 weeks.
HOW TO USE
Pricking Out Seedlings:
Loosly fill the new tray or pot with compost and level.

Use a dibber or a small fork to loosen the compost beneath the seedling.  Holding the seedling by a seed leaf, ease the seedling out of its compost keeping much of the original compost sticking to the roots as possible.  

Make a hole in the new compost and place the roots of the seedling in the hole.  Gently firm the compost around the plant, spacing out the seedlings evenly.

Water gently with a fine rose to settle the compost around the roots.  Keep in a warm, shaded spot protected from frost.
Potting On Rooted Cuttings:
Add a layer of compost to the bottom of new pots or tray cells.  Position the new cutting into the pot and top up with fresh compost around the roots.  Water gently and keep in a warm, shaed spot, protected from frost.
WHERE TO USE
For developing seedlings, young plants and newly rooted cuttings.
CAUTIONS
Use in a well ventilated place and avoid breathing dust. Always wear gloves when gardening and then wash your hands after use.
Always read the label and product information before use.
RECYCLING & HANDY HINTS
This Levington John Innes No.1 compost provides all of the necessary food for up to 6 weeks.  After that time, water wtih Miracle-Gro Water Soluble Plant Food or re-pot into Levington John Innes no.2.
DID YOU KNOW THAT YOU'RE PART OF ONE OF THE WORLD'S LARGEST RECYCLING EFFORTS?
Each year, Scotts Miracle-Gro resuses thousands of tonnes of material from gardens and forests in many of our compost mixes, to help you grow plants that enhance your environment and make the World more beautiful.
Health and Safety
Always read the pack label and product instructions carefully before use. For further information relating to product safety please review the product data safety sheet link below.