Levington® Organic Blend Farmyard Manure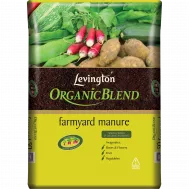 Levington® Organic Blend Farmyard Manure
Levington Organic Blend Farmyard Manure improves the vitality of roses, flowers, fruit and vegetables. Its Organic soil conditioner naturally increase the yield.
HOW TO USE
Dig into the soil to break down heavy clay soil and improve water holding capacity of light sandy soil.
USAGE & STORAGE
Use the manure directly from the bag. Wear gloves when handling. Seal bag after use. Not suitable for ericaceous plants such as Camellias, Azaleas and Rhododendrons. We recommend, Levington Ericaceous Compost for these plants.
WHERE TO USE
Suitable for roses, flowers, fruit and vegetables.
CAUTIONS
Use in a well ventilated place and avoid breathing in dust. Always wear gloves when gardening and then wash your hands after use.
Always read the label and product information before use.
RECYCLING & HANDY HINTS
OUR COMMITMENT TO SUSTAINABILITY
Did you know that you're part of one of the World's largest recycling efforts?  Each year, Scotts Miracle-Gro reuses thousands of tonnes of material from gardens and forests in many of our compost mixes, to help you grow plants that enhance your environment and make the World more beautiful.
Health and Safety
Always read the pack label and product instructions carefully before use. For further information relating to product safety please review the product data safety sheet link below.