Levington® Organic Blend Top Soil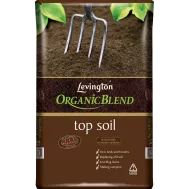 Levington® Organic Blend Top Soil
Levington Organic Blend Top Soil is perfect for creating new beds and borders, replacing old soil, levelling lawns and making compost. This rich fertile loam-based soil contains a high content of organic matter and a special blend of organic nutrients, promoting healthy root growth. 
HOW TO USE
Beds and Borders:
Use straight from the bag to build up beds and borders.  

Dig in this fertile blend to enrich your tired existing soil with its high organic matter content.  

No lime has been added to Levington Organic Blend Top Soil and it is suitable for improving the soil around Rhodendrons, Azaleas, Heathers and other ericaceous plants.
Pots and Containers: 
In windy positions, a loam-based compost will provide the weight needed to to help keep patio pots and containers upright.  
Replacing Sick Soil:
Soil in greenhouses that has build-up of pests and diseases or soil that has grown roses or strawberries for a number of years may need replacing if new plants are to establish.  

Use Levington Organic Blend Top Soil to introduce, fresh fertile soil in which plants can thrive.
WHERE TO USE
Use it for creating new beds and borders, in pots or containers, replacing old soil, levelling lawns and making compost.
CAUTIONS
Use in a well ventilated place and avoid breathing in dust. Always wear gloves when gardening and then wash your hands after use.
Always read the label and product information before use.
RECYCLING & HANDY HINTS
DID YOU KNOW THAT YOU'RE PART OF ONE OF THE WORLD'S LARGEST RECYCLING EFFORTS?
Each year, Evergreen Miracle-Gro resuses thousands of tonnes of material from gardens and forests in many of our compost mixes, to help you grow plants that enhance your environment and make the World more beautiful.
Health and Safety
Always read the pack label and product instructions carefully before use. For further information relating to product safety please review the product data safety sheet link below.