Levington® Original Multi Purpose Compost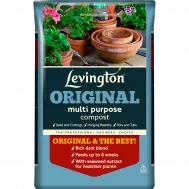 Levington® Original Multi Purpose Compost
Levington Original Multi Purpose Compost is perfect for beds and borders, seeds and cuttings, hanging baskets, pots and tubs. It contains a rich, dark peat blend with seaweed extract for great growing results and feeds for up to 8 weeks.
HOW TO USE
Hanging Baskets:
Place the hanging basket on a flowerpot to keep it steady.  Line the basket if necessary and fill with compost.

Insert plants through sides of the basket where possible to ensure a ball of colour.  Fill the basket with compost and arrange plants on top, with trailing ones around the sides.  

Firm lightly and water thoroughly.
Containers: 
Ensure that the container has sufficient drainage holes then fill with compost.  Add your chosen flowers and firm lightly, then water thoroughly.
WHERE TO USE
For general planting and soil improvement in flowerbeds and borders. Not suitable for ericaceous plants.
CAUTIONS
Use in a well ventilated place and avoid breathing in dust. Always wear gloves when gardening and then wash your hands after use.
Always read the label and product information before use.
Health and Safety
Always read the pack label and product instructions carefully before use. For further information relating to product safety please review the product data safety sheet link below.