Levington® Seed & Cutting Compost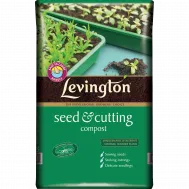 Levington® Seed & Cutting Compost
Levington Seed & Cutting Compost is perfect for sowing seeds, striking cuttings, delicate seedlings. It contains a unique balance of nutrients for stronger, healthier plants and is specially formulated with high-phosphate content for optimum root growth.
HOW TO USE
How to Use When Sowing Seeds:
Fill a clean seed tray with Levington® Seed & Cutting Compost, level off with your hand or ruler, firm lightly and water using a fine rose.

Sow seeds thinly and evenly.  Cover the seeds when necessary with their own depth in compost, firming lightly.  

For smaller seeds such as Petunia or Lobelia, there is no need to cover with the Levington® compost.

To retain water, cover the seed tray or container with a glass or polythene cover.  Make sure the tray is kept out of direct sunlight.

When the seedlings are ready to be transplanted into individual pots, take care to handle them by the leaves and not the stems or roots.
How to Use with Cuttings:
Take the cutting in the appropriate way, according to the type of plant.

Fill the container with Levington® Seed & Cutting Compost.  Place the cutting in a hole in the compost, firm lightly, water the compost and cover to retain moisture and keep warm.
WHERE TO USE
For sowing seeds, cuttings, delicate seedlings and all sensitive young plants.
CAUTIONS
Use in a well ventilated place and avoid breathing in dust. Always wear gloves when gardening and then wash your hands after use.
Always read the label and product information before use.
TOP TIPS FOR USING SEED & CUTTING COMPOST
WHAT TO DO WHEN WATERING
Compost should be kept moist at all times and not allowed to dry out.

Plants should not be left to stand in water for long periods of time, this will encourage root rot.

 
WHAT TO DO WHEN GROWING ON
After 4 to 6 weeks plants should be potted up into Levington John Innes No1 Compost, or a specialist compost depending on the type of plant.  After that time, maintain a strong helath growth, by feeding with Levington Liquid Plant Food regularly.
Health and Safety
Always read the pack label and product instructions carefully before use. For further information relating to product safety please review the product data safety sheet link below.