Levington® Water Saving Decorative Bark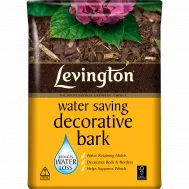 Levington® Water Saving Decorative Bark
Levington Water Saving Decorative Bark is perfect for use in borders, containers and paths. It is made from renewable resources, reduces moisture control and helps to supress weeds.
HOW TO USE
Remove all weeds from the bed or border.

Apply when the soil is moist.

Spread a layer of Levington Water Saving Decorative Bark (5cm) 2 inches deep around plants.
WHERE TO USE
For decorating borders, containers and paths.
HOW OFTEN TO APPLY
Use as required, for best results ensure the ground is wet before applying.
CAUTIONS
Use in a well ventilated place and avoid breathing in dust. Always wear gloves when gardening and then wash your hands after use.
Always read the label and product information before use.
RECYCLING & HANDY HINTS
PATHWAYS
Levington Water Saving Decorative Bark is an attractive alternative to gravel for garden paths.  It provides a stable surface and safe footing, even during rain.
 
OUR COMMITMENT TO SUSTAINABILITY
Did you know that you're part of one of the World's largest recycling efforts?  Each year, Evergreen Miracle-Gro reuses thousands of tonnes of material from gardens and forests in many of our compost mixes, to help you grow plants that enhance your environment and make the World more beautiful.
Health and Safety
Always read the pack label and product instructions carefully before use. For further information relating to product safety please review the product data safety sheet link below.