Miracle-Gro® Bulb Fibre Enriched Compost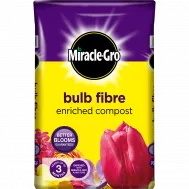 Miracle-Gro® Bulb Fibre Enriched Compost
Miracle-Gro Bulb Fibre Enriched Compost is perfect for outdoor and indoor use. Its unique texture encourages fast root growth. With it specially formulated premium peat free compost, it helps bulbs replenish themselves and flower again next season.
HOW TO USE
Pots and containers: outdoors:
Partly fill container with compost.

Firmly place bulbs in compost ensuring the bulbs do not touch each other or the container.

Fill the container with more compost, to twice the depth of the bulb.

Water thoroughly and place outside for flowering in spring.
 
For inddors, follow outdoor instructions:
Place container in a frost-free, cool, dark, airy place, water as necessary.

When shoots are green move to a warmer environment. Leaves should appear 6-8 weeks before bulbs flower fully.

After flowering, place in a light place and water regularly until leaves die.  Store bulbs in a cool, dry place until spring and plant in flower beds.
 
Beds and borders
Dig a hole 10-15cm (4-6 inches) deep. 

Cover the bottom with a layer of compost.

Place bulbs firmly onto compost and fill.

Firm gently and water thoroughly.
This pack fill approximately 2 small pots (25cm, 10") or 1 medium pot (32cm, 13") or 2 hanging baskets.
WHERE TO USE
Outdoor use: planting in pots and flower beds and borders. Indoor use: growing and forcing bulbs in containers.
HOW OFTEN TO APPLY
Feeds plants for up to 3 months.
CAUTIONS
Always wear gloves when gardening.
Always read the label and product information before use.
Useful tips:
Miracle-Gro® Bulb Fibre Enriched Compost should be kept moist at all times and it should never be allowed to dry out.
Feeding with Miracle-Gro Plant Food after flowering will ensure bulbs produce beautiful blooms again next year.
Health and Safety
Always read the pack label and product instructions carefully before use. For further information relating to product safety please review the product data safety sheet link below.