Miracle-Gro® Gro Your Own Vegetable & Fruit Giant Planter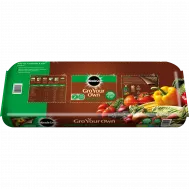 Miracle-Gro® Gro Your Own Vegetable & Fruit Giant Planter
Miracle-Gro Gro Your Own Vegetable & Fruit Giant Planter is ideal for all areas of fruit and vegetable gardening. It grows twice the amount of fruit and vegetables. Its specially formulated organic plant food feeds up to 6 weeks.
HOW TO USE
Place in a sunny frost-free position.

Shake the bag to distribute contents evenly.

Cut out panels on the top of planter along indicated lines.

Plant to the same depth as the plants were grown in their pots.

Follow the other instructions for your crop in the table below.

Water thoroughly after planting.
WHERE TO USE
Ideal for small spaces or balconies.
HOW OFTEN TO APPLY
Feeds plants for up to 8 weeks.
Always read the label and product information before use.
Health and Safety
Always read the pack label and product instructions carefully before use. For further information relating to product safety please review the product data safety sheet link below.