Miracle-Gro® Liquafeed™ All Purpose Plant Food Refills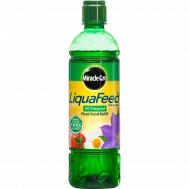 Miracle-Gro® Liquafeed™ All Purpose Plant Food Refills
Miracle-Gro Liquafeed All Purpose Plant Food Refills are easy to use. Just insert into Miracle-Gro® LiquaFeed™ Gun and feed. Bottles have patented design to prevent drips and spillage.
HOW TO USE
Attach feeder to garden hose.

Insert Liquafeed refill bottle by removing cap and twisting into Liquafeed Feeder.

Feed by spraying on to leaves and soil of all plants to instantly feed while you water.  Each bottle will feed 40m² (400 sq feet) in about 20 minutes depending on water pressure.
WHERE TO USE
Use on beds, borders, pots, containers, hanging baskets.
HOW OFTEN TO APPLY
Feed every 7 - 14 days.
FERTILISER ANALYSIS
NPK 12-4-8 with trace elements.
Always read the label and product information before use.
RECYCLING & HANDY HINTS
DID YOU KNOW THAT YOU'RE PART OF ONE OF THE WORLD'S LARGEST RECYCLING EFFORTS?
Each year Evergreen Miracle-Gro® resuses thousands of tonnes of material from gardens and forests in many of our compost mixes, to help you grow plants that enhance your environment and make the world more beautiful.
Health and Safety
Always read the pack label and product instructions carefully before use. For further information relating to product safety please review the product data safety sheet link below.