Miracle-Gro® Peat Free All Purpose Enriched Compost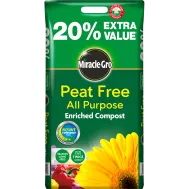 Miracle-Gro® Peat Free All Purpose Enriched Compost
Miracle-Gro Peat Free All Purpose Enriched Compost is perfect for beds and borders, hanging baskets, pots and containers. It is ideal for growing fruit and vegetables, guarantees stronger and healthier plants, grows plants twice as big and feeds for up to 3 months.
HOW TO USE
Beds and borders:
Dig a hole twice the size of the root ball.

Position the plant and fill with 50% soil and 50% compost.

Firm around the base and water thoroughly.
 
Pots, containers and hanging basketsL
Place a layer of compost in the base of the pot.

Tap out the plant from the old pot, loosen the root ball and place in the centre of the pot.

Fill the space around the root ball, ensuring the compost level covers all the roots.

Firm lightly and water thoroughly and let drain.
 
Large seeds, seedlings and cuttings:
Fill small pots with compost.

Push large seeds or base of cutting below the compost surface.

Firm lightly and water thoroughly.
WHERE TO USE
Use in beds and borders, pots, containers and hanging baskets.
CAUTIONS
Always wear gloves when gardening.
Always read the label and product information before use.
RECYCLING & HANDY HINTS
Useful Tips
For continued fantastic results with the hungriest plants we recommend that you begin feeding with Miracle-Gro® plant food as soon as the leaves being to pale. 

For sowing small seeds, we recommend using a specialist seed and cutting compost.

For large seeds, water compost thoroughly before planting and follow individual seed pack instructions.

Compost should be kept moist at all times and not allowed to dry out.  Avoid plants sitting in water.  Outdoor container plants require frequent watering.
Health and Safety
Always read the pack label and product instructions carefully before use. For further information relating to product safety please review the product data safety sheet link below.