Miracle-Gro® Potting Mix Root Boosting Compost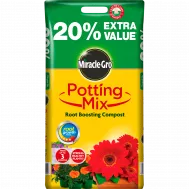 Miracle-Gro® Potting Mix Root Boosting Compost
Miracle-Gro Potting Mix Root Boosting Compost is perfect for seedlings, cuttings, herbs, houseplants and patio pots. Itencourages optimum root growth for strong healthy plants and feeds for up to 3 months.
Pack Sizes
8 litres + extra free
HOW TO USE
It also contains our Root Growth Feed, which provides the optimum balance of nutrients to encourage healthy root development. It gives a quick boost to plants – getting them off to the best possible start – then carries on feeding while the plants are establishing and growing.
Miracle-Gro® Potting Mix Root Boosting Compost also contains a long-term, balanced feed to keep plants growing beautifully for up to 3 months. This means it can also be used for longer-term plants, making it perfect for houseplants, herbs, patio pots and all containers.
WHERE TO USE
Ideal for houseplants, seedlings, herbs, cuttings and patio pots.
HOW OFTEN TO APPLY
Feeds plants for up to 3 months.
CAUTIONS
Always wear gloves when gardening.
Always read the label and product information before use.
RECYCLING & HANDY HINTS
The root to success:
The roots are the most important part of any plant - but especially young plants. Get the roots growing strongly, and the rest of the plant will follow.
Young plants have fine roots that can be scorched by too much fertiliser and need a very open, porous compost to stimulate strong root growth, so they establish faster and grow far better.
Miracle-Gro Potting Mix Root Boosting Compost is specifically formulated to provide the ideal growing conditions needed for potting up and growing on seedlings and all young plants – including plug plants. Its holds the perfect balance of air and water – ensuring super drainage, strong root growth and healthy, beautiful plants.
Health and Safety
Always read the pack label and product instructions carefully before use. For further information relating to product safety please review the product data safety sheet link below.