Miracle-Gro® Pour & Feed™ Ready to Use Plant Food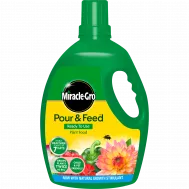 Miracle-Gro® Pour & Feed™ Ready to Use Plant Food
Miracle-Gro Pour & Feed Ready To Use Plant Food is a new formulation containing Humifirst® which is rich in organic matter. This new formula stimulates growth and yield, root formation and Improves plants resistance to environmental stresses. Merchandise with outdoor or houseplants as can be used on orchids,
cactus and citrus plants, as well as many other houseplants. Guaranteed visibly healthier plants in 7 days.
HOW TO USE
Add the Miracle-Gro® Pour & Feed directly to the moist compost around the plants according to the dosage guide below;
pots 9-11cm - 1 cap
pots 12-19cm - 2 caps
pots 20cm+ - 4 caps
WHERE TO USE
For indoor or outdoor use.
HOW OFTEN TO APPLY
Feed every 7-14 days whe plants are actively growing and water as normal.
CAUTIONS
Always wear gloves when gardening.
Always read the label and product information before use.
RECYCLING & HANDY HINTS
Avoid over watering or allowing plants to dry out as this can cause damage to the roots.
Health and Safety
Always read the pack label and product instructions carefully before use. For further information relating to product safety please review the product data safety sheet link below.