Miracle-Gro® EverGreen® Fast Grass Lawn Seed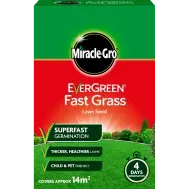 Miracle-Gro® EverGreen® Fast Grass Lawn Seed
Miracle-Gro EverGreen Fast Grass Lawn Seed contains Headstart® Gold, a revolutionary grass seed coating that ensures rapid 4 day germination. It is a professional grade seed for superior results which are suitable for all lawn types
HOW TO USE
Create a new lawn or fill in a bare patch
Rake: 
Remove all weeds and stones

Turn the soil over to a depth of 15cm - 22cm (6-9in)

Level and firm by either treading or using a roller
Shake
Shake box to re-mix seed

You need 30g per square meter (1oz/sq.yd). For a visual guide, apply to a measured area first

Create a criss-cross pattern, by sowing half the seed from left to right and the rest from top to bottom

Gently rake in, then tread or roll seed into the soil
Water
Unless it rains, soak with a fine spray and keep the soil moist for the next few weeks

The grass can be trimmed when it is 5-8cm (2-3in)

Each time you mow, lower blade height a level until its at 2.5cm (1in)

Do not cut more than a 1/3 off the growth at any one point
How to overseed an exisiting lawn
Prepare the lawn by mowing it short, raking out dead grass, moss and debris

Apply a lawn dressing, such as EverGreen® Lawn Soil

In dry conditions, moisten the lawn

Sprinkle a small handful of seed for each square meter (20g)

Lightly rake the seed into the lawn

Unless it rains, soak with a fine spray and keep soil moist for the next few weeks
WHERE TO USE
For use on lawns requiring rapid germination.
HOW OFTEN TO APPLY
Apply as required.
Use plant protection products safely. Always read the label and product information before use.
1. Do I need to add any fertiliser to the grass seed?
Quite often there is enough residual fertility in the soil to help the young grass plants grow. Do not use strong fertilisers weed and moss killers for 24 weeks after sowing seed as young grass plants are tender and might be harmed.
2. Can I use my Scotts Evengreen Drop Spreader to sow the seed?
Yes, use setting 18 and go over the lawn 3 times at different angles. For settings with our other spreaders and grass seeds visit here.
3. When can I expect to see the shoots coming up?
In ideal conditions germination starts in 4 days with a small root appearing soon followed by the grass blade. If the soil is cooler germination will take longer maybe up to 28 days.
4. I have some grass seed I bought 4 years ago, can I still use it?
Grass seed has a limited shelf life and where possible we recommend the use and purchase of new season's stock. Our seed has a very high viability when packed and providing it has been stored in cool dry conditions it will last for 2 years after which germination will decline.
5. When is the best time to sow grass seed?
Grass seeds need a high enough soil temperature in order to germinate, so wait until all frosts have passed and we are starting to see much warmer night temperatures. Usually between March and September. Avoid sowing grass in very hot and dry conditions; equally avoid cold conditions to get the best results.
6. Why is it called Fast Grass?
Due to the special seed blend, germination is quick and can be expected in just 4 days under ideal conditions. The special Coating holds nutrients that stimulate the seed to develop and grow.
7. What is the coverage?
The coverage per each pack size is as follows: - 450 g carton = 15 m² - 2.4 kg carton = 80 m² - 6 kg bag = 200 m²
Health and Safety
Always read the pack label and product instructions carefully before use. For further information relating to product safety please review the product data safety sheet link below.