Origins® Organic Plant Food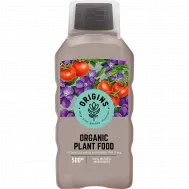 Origins® Organic Plant Food
Origins Organic Plant Food encourages growth of healthy plants and edibles. It is made with 100% natural ingredients. It is ideal for all types of plants and edible crops – indoor and outdoor and is Organic Farmers & Growers Certified.
HOW TO USE
Dilute 10ml of plant food to 1L of water and soak the soil at the base of the plant.
For fast growth crops e.g. tomatoes feed with 1L of diluted feed per plant each week

For medium growth crops e.g. flowering plants and peppers feed with 200ml - 500ml of diluted feed per plant each week

For slow growth crops e.g. strawberries and lettuce feed with 200ml - 500ml of diluted feed per plant, 2 to 3 times in the season
Only feed when plants are actively growing. For tomatoes and peppers this is when first fruits have set.
WHERE TO USE
For healthy plants and fruit & vegetables.
FERTILISER ANALYSIS
NPK 3-2-5.
CAUTIONS
Always wear gloves when gardening.
Always read the label and product information before use.
RECYCLING & HANDY HINTS
Crops are fine to harvest and eat as normal after feeding. Always wash before eating. 
Store out of direct sulight, in a cool place between 5 and 35ºC.  Keep out of reach of children. Wash splashes from skin. 
Health and Safety
Always read the pack label and product instructions carefully before use. For further information relating to product safety please review the product data safety sheet link below.