Origins® Organic Planter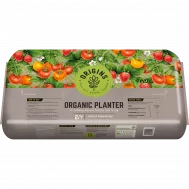 Origins® Organic Planter
Origins Organic Planter is perfect for growing healthy fruit and vegetables organically. It is peat based, enriched with season long organic feed, with a unique blend with added wood fibre and aged bark to encourage .healthy root growth. This product is ideal for most types of plants and edibles crops and is Organic Farmers & Growers Certified,
HOW TO USE
Our planter is great for growing fruit & veg and works best if you follow these simple steps:
Choose a sheltered sunny spot - it will be difficult to move the planter later

Give the bag a shake

Some plants need more personal space than others. Use the usage table on pack to judge how close yours will want to get

Cut along the dotted lines to open up the top but be careful not to cut through to the bottom

To plant, remove enough compost to make room for the roots of your plant. Place the plant into the hole, cover the roots back with the compost and firm lightly around the plant.

Soak the soil using about 4.5 litres of water and make sure it is kept moist.
WHERE TO USE
Ideal for growing most types of edible crops, fruit & veg.
CAUTIONS
Always wear gloves when gardening.
Always read the label and product information before use.
RECYCLING & HANDY HINTS
Hints & Tips:
Certain plants like their personal space.  To best judge how close yours like to get, see our advice below:
Tomatoes, peppers, chillies are pretty friendly - 2 plants per bag

Strawberries like to get cosy - 4 plants per bag

Courgette and cucumbers like their space! - 1 plant per bag
To get the best tomatoes, only plant after the first flower opens.  Train your plants to fan out so that they receive lots of light and air.  When your first fruits show given them a little boost with Origins® Organic Plant Food.
Store in a cool dry place away from sun. Open bags carefully. Use in a well ventilated place and avoid breathing in dust. Always wear gloves when gardening and then wash hands after use.
Health and Safety
Always read the pack label and product instructions carefully before use. For further information relating to product safety please review the product data safety sheet link below.