Origins® Weed Control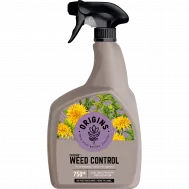 Origins® Weed Control
Origins Weed Control kills unwanted weeds from gardens. It allows replanting or seeding 24 hours after application, with visible results in 1 hour.This product is deal for flower beds, borders, and vegetable patches.
HOW TO USE
Release the safety tab by pressing down firmly on top of trigger head behind nozzle.  At the same time, twist nozzle to spray position (1/4 turn).

Apply spray evenly to leaves and stems.  Weeds must be thoroughly wetted to the point of run-off.

Turn the nozzle to stop position after use.

Allow spray to dry before walking or playing on treated areas.
WHERE TO USE
For use on gravel, paths, drives, base of roses, ornamental shrubs and trees and under established hedges with woody bark.
HOW OFTEN TO APPLY
Maximum of 4 treatments per year.
CAUTIONS
Origins weed control kills all green plant growth, including grass. Do not apply to lawns and plants you want to keep. Apply no more than 100ml/m².
Use weed killer products safely. Always read the label and product information before use.
RECYCLING & HANDY HINTS
Protection during / in use: Avoid contact with eyes.  In case of contact with eyes, rinse immediately with plenty of water and seek medical advice.  If swallowed, seek medical advice immediately and show this container or label.  Wash off splashes from skin immediately.  Wash hands and exposed skin after use.
Environmental protection: Do not apply when rainfall is expected within 6 hours of application.  Risk to non-target insects or other arthopods.  Dangerous to bees.  To protect bees and pollinating insects do not apply to plants when in flower.  Do not use where bees are actively foraging.  Do not apply when flowering weeds are present.  Direct spray away from ponds or other surface water bodies.  Do not empty into drains.  Use appropriate containment to avoid environmental contamination.
Storage and disposal: Keep out of the reach of children and pets. Keep product in original container, tightly closed in a safe place.  Keep away from food, drink and animal feeding stuffs.  Empty container completely and dispose of safely.  Protect from frost.
Health and Safety
Always read the pack label and product instructions carefully before use. For further information relating to product safety please review the product data safety sheet link below.