Roundup® Gel Path Weedkiller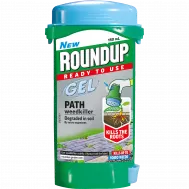 Roundup® Gel Path Weedkiller
Roundup Gel Path Weedkiller is a unique weeding tool for killing weeds growing on hard surfaces. It is a systemic weedkiller which kills the root so weeds don't come back. 100% of the gel is applied to the weed and it is ideal for treating weeds on paths, drives and patios.
WHERE TO USE
Ideal for treating weeds on paths, drives and patios.
CAUTIONS
Contains glyphosate.
Use weed killer products safely. Always read the label and product information before use.
RECYCLING & HANDY HINTS
OUR COMMITMENT TO SUSTAINABILITY
Did you know that you're part of one of the World's largest recycling efforts?  Each year, Evergreen Miracle-Gro reuses thousands of tonnes of material from gardens and forests in many of our compost mixes, to help you grow plants that enhance your environment and make the World more beautiful.
Health and Safety
Always read the pack label and product instructions carefully before use. For further information relating to product safety please review the product data safety sheet link below.