Roundup® Gel Wand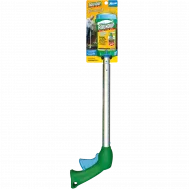 Roundup® Gel Wand
Roundup Gel Wand kill weeds that are hard to reach using the gel wand. It extends up to 86cm and is compatible with Total Gel, Path Gel and Tough Gel.
WHERE TO USE
Suitable for most types of garden weeds.
CAUTIONS
Keep pets and children away from the treated area until it has completely dried. Contains glyphosate.
Use weed killer products safely. Always read the label and product information before use.
RECYCLING & HANDY HINTS
Avoid contact by spray and spray drift with cultivated plants and desired vegetation.  To avoid transfer to lawns and other desired vegetation do not walk into treated areas until the product has dried.
Keep children and pets out of treated areas until the product has dried.  Do no re-use empty bottle.
Health and Safety
Always read the pack label and product instructions carefully before use. For further information relating to product safety please review the product data safety sheet link below.