Scotts Lawn Builder Lawn Complete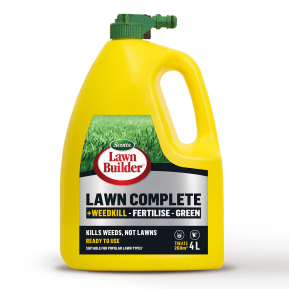 How to Use Scotts Lawn Builder Lawn Complete
Step by Step instructions on how to use Scotts Lawn Builder Lawn Complete
Scotts Lawn Builder Lawn Complete
Scotts® Lawn Builder Complete is a dual action lawn treatment that kills weeds while it's feeding and greening the lawn. A tried and true formulation in one easy-to-use hose-on application, suitable for use on all common lawn types.
4L treats 260m2
SUITABLE FOR
Most broadweed weeds including, onehunga (prickle) weed, capeweed, clovers, cudweed, creeping oxalis, dandelion, dock, lambs tongue (plantain), thistles and wireweed.
Read Safety Directions before opening or using.
HOW TO USE
For treatment of lawn weeds apply to actively growing lawns in spring or autumn. For treatment on prickles, apply to actively growing lawns in spring.
Measure out the lawn area - the contents will treat 260m2. Take care to not over apply the product.
Shake well before use.
Ensure the locking tab is inserted and the switch is in the down (closed) position. Attach the hose to the hose-on applicator and turn on the hose to a medium flow.
Extend the hose to the farthest point of the area to be treated and turn on the flow by removing the locking tab and lifting the switch.
Walk at a steady pace using a sweeping action, keeping the container upright not facing the ground.
Apply carefully avoiding contact with any desirable plants.
When finished spraying, kink the hose, push the switch down firmly to close the flow and insert the tab into the locking position.
CONSIDERATIONS
DO NOT use on buffalo grass, cotula or dichondra. DO NOT use lawn clippings as mulch or compost. DO NOT apply if raining or if rainfall is expected in 24 hours. Keep children and pets off for 24 hours or until dry. Wait at least 7 days to mow after application. Wait at least 6 months between applications. DO NOT use on new lawns less than 3 months old. Effects may not be seen for up to 4 weeks.
Health and Safety
Always read the pack label and product instructions carefully before use. For further information relating to product safety please review the product data safety sheet link below.