Scotts Lawn Builder Lawn Soil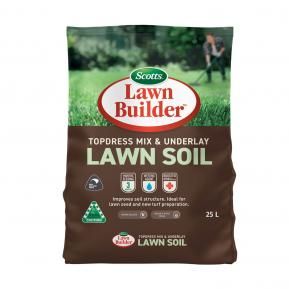 Scotts Lawn Builder Lawn Soil
Lawn Builder™ Lawn Soil has been developed by horticultural experts as a superior replacement for top soil, manure and other in-ground lawn soils.
This blend of composted material and added Lawn Builder™ Slow Release Lawn Fertiliser is designed to be topdressed on or mixed with the existing soil.
Used as directed, it will deliver water and nutrients to the roots, providing the best possible environment to grow healthier and greener grass.
HOW TO USE
Topdressing and Over-Seeding Established Lawns:
When sowing lawns topdressing in combination with overseeding, is an excellent practice to help improve lawn density.
Spread Lawn Builder Lawn Soil over existing lawn with a shovel. Use a leaf rake to smooth out heavy areas.
If over-seeding, use quality grass seeds, following package directions and lightly rake into the soil.
For best results wait for 8–10 weeks after seedlings emerge and feed with Scotts Lawn Builder fertiliser, then feed regularly every season.
For heavily thatched lawns, mechanical aeration immediately prior to topdressing and over-seeding is recommended
Planting Grass Seeds or Laying New Turf
To kill any unwanted weeds and grass, spray area with suitable non-selective, systemic herbicide 10 days prior to planting.
Prepare the application area by digging out dead grass or weeds.
Loosen the existing soil with a rake then add approximately 1cm of Lawn Builder Lawn Soil to the application area and spread evenly. For best results mix 1cm of Lawn Builder Lawn Soil into the top 2.5cm of existing soil.
Spread high quality grass seeds and gently rake seeds into the soil following package instructions. If laying new turf, cut the turf to fit the area precisely. Do not leave gaps between pieces of turf as this creates a home for weed seeds.
Water is critical. The seedbed should be kept moist, so watering frequently, rather than deeply, is best. Only the top 2.5cm or so needs to be kept moist, either by watering or rainfall.
For best results, wait 8–10 weeks after seedlings emerge and feed with Scotts Lawn Builder fertiliser, then feed regularly every season.
WHEN TO USE
Topdressing an existing lawn is best done in Autumn, after the heat of Summer has passed and before Winter rainfall
It can be done at other times of the year but avoid topdressing in mid Summer
Sowing new lawns and patching existing grass are best done in mid Spring and Autumn
New turf is best laid in Spring or Autumn - avoid Summer's heat and Winter's cold
SAFETY INFORMATION
IMPORTANT: We recommend using gardening gloves when using this and other planting mixes and composts. If dusty, wear a mask.
Store safely out of the reach of children and pets. This product contains iron which can be harmful to dogs' livers if eaten in quantity
SAFETY FIRST: Read the instructions on the product packaging before use and take particular note of any warnings or cautions on the label
See the Safety Data Sheet for this product
FOR SPECTACULAR RESULTS 
Mix thoroughly to avoid creating a distinct barrier layer between Lawn Builder Lawn Soil and the existing soil. This will allow grass roots to expand easily for more vigorous growth.
Fertilise lawns every season with Scotts Lawn Builder Slow Release Lawn Fertiliser, there are a few different variants to choose from.
Use Lawn Builder + Grub & Insect Control to get rid of unwanted lawn pests.
For best results use a Scotts spreader to apply the Lawn Builder fertiliser.
Health and Safety
Always read the pack label and product instructions carefully before use. For further information relating to product safety please review the product data safety sheet link below.