SaturAid® Granular Soil Wetter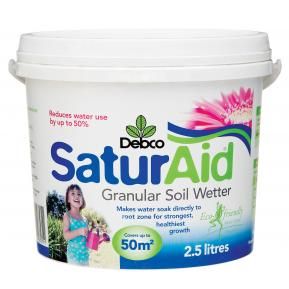 SaturAid® Granular Soil Wetter
SaturAid Granular Soil Wetter makes water soak deep down to the root zone of garden beds, pots and lawns for stronger, deeper root systems and healthier plants and lawns.
SaturAid works immediately so watering, rainfall and liquid feeding are more effective, even in hard-to-wet sandy, clay or compacted soils and potting mixes.
FEATURES
Long-lasting formulation using 2 carrier technology means SaturAid starts working immediately and lasts for up to 12 months for sustained performance
Non-toxic and is safe for all plant types and safe to use around ponds and waterways
Makes water soak directly to root zone 
Reduces water use by up to 50% 
Used by professional growers 
SUITABLE FOR
Use SaturAid in your containers, pots and baskets, and over the entire garden and lawn, paying special attention to dry spots.
HOW TO USE 
GARDEN BEDS & LAWNS
Mix into new garden beds or soil to a depth of 10cm or simply sprinkle on to existing garden beds or lawns.
Water in after application.
500g will cover 
25sqm - QTY - 20g 
CONTAINERS, POTS & BASKETS 
Sprinkle on, or mix through potting mix when planting. 
Water in after application. 
Size - width 
250mm (10 inch pot) - 5g
300mm (12 inch pot) - 10g
400mm (16 inch pot) - 20g
Health and Safety
Always read the pack label and product instructions carefully before use. For further information relating to product safety please review the product data safety sheet link below.