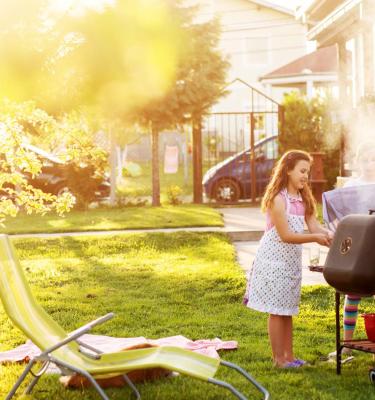 Explore things to do in your garden every month
Gardening in December
Summer days and holidays …
We know summer is really here when the hydrangeas are covered in big, blousy heads of blooms! Roses will also be in full bloom in the lead up to Christmas. This month, it's all about enjoying fresh crops and flowers for summer festivities and making sure the garden is well watered during the warmer weather.
The hard yards put in over spring should now be paying dividends with the lawn lush and green, veggie patch producing tasty fresh crops, fruit trees showing evidence of luscious fruits ahead and the flower garden bursting with colour.
What to plant now: 
There's still plenty of heat loving crops to plant during the warmer months! It's also a good idea to plant in pots and hanging planters to decorate outdoor living spaces. 
Use advanced colour or bloomer pots or shrubby plants with trailing stems to plant up large tubs and voluptuous hanging baskets. Choose from: petunias, calibrachoas, impatiens, geraniums, fuchsias.
Herbs such as parsley, basil, coriander and mint can be planted now – it can be a good idea to plant in pots over Summer, where they can be moved out of the sun and watered frequently if necessary.
Leafy salad favourites, especially the "pick and come again" lettuces, can be planted out provided they are watered in well and given some shade until they've settled in.
The Vegetable Patch:
Harvest now:
Many of the veggies planted or sown in through spring may start cropping during the month, some earlier than others. Pick what you need daily and rinse in clean water to remove dirt and dust before eating. Beans, lettuce, tomatoes, beetroot, spring onions, snap peas, silver beet, courgettes, cucumbers and sweet corn all taste better fresh from the garden.
What to plant now:
Seedlings of summer favourites and Asian greens may still be planted now into well prepared and fertilised soil. Add a long-term or slow release fertiliser and mix through the soil then moisten well a few days before planting.
Staggering the plantings over many weeks will provide continuous cropping throughout summer. Check your local garden centre to see what other veggies are on offer.
Sow or plant:  
Basil
Beetroot
Beans
Capsicum
Carrot
Celery
Chilli
Coriander
Courgette
Cucumber
Eggplant
Leek
Lettuce
Mesclun
Parsley
Parsnip
Pumpkin and squash
Radish, silverbeet
Spring onions
Sweetcorn
Tomatoes
Veggie patch tips for December:
Use a liquid fertiliser for vegetables and herbs or a certified organic fertiliser to keep veggies growing well.
Make sure your tomatoes are getting plenty of water.
Train climbing crops like peas and beans up tripods or trellising to keep plants up off the ground.
Potatoes for Christmas are just around the corner! Make sure to keep mounding potatoes as shoots grow. 
Hand pull or hoe out weeds as they appear – they compete for nutrients and moisture and may also harbour pests that could attack your crops. 
Water early in the day direct on to the soil – avoid wetting leaves because this could encourage diseases.
Build a shade cloth or bird netting cover over the entire veggie patch to prevent birds eating the produce before it's ripe enough to pick. Use a mesh size of 5mm or less to prevent birds and animals being caught in it.
Fruit & Flower Beds:
Fruits to harvest now:
The first of the stone fruits – cherries – ripen early in December.  Later in the month, apricots will be ripe, followed by early season plums. Harvest gooseberries, currants, mulberry, blueberry, strawberries and other berries including boysenberries, blackberries and raspberries. 
Strawberries and early cropping varieties of raspberries and blackberries all fruit in December, and the first of the passionfruit may turn purple and drop to the ground. Tropical fruits are still cropping in warmer areas, and melons are in season now too. 
What fruit to plant:
Strawberry
Blueberry
Passionfruit 
What flowers to plant:
Continue planting gladiolus corms every two weeks until mid-December. They usually flower in about 60 days. 
Sow or plant:
Begonias
Petunia
Impatiens
Calendula
Chrysanthemum
Dahlia
Echinacea
Verbascum
Verbena
Alyssum
Cosmos
Gaillardia
Arctotis
Marigold
Nemesia
Salvia
Penstemon
Nicotiana
Nigella
Hollyhock
Peruvian lily
Daisy
Delphinium
Dianthus
Fuchsia
Gerbera
Lavender.
Garden jobs for the month:
Summer is all about mulching and conserving moisture in the soil – add a layer about 100mm deep of pea straw or mulch over garden beds, including the vegetable patch, to keep the soil cool, moist and weed-free.
Keep flowering annuals, vegetables and herbs growing well with regular applications of an all purpose fertiliser.
Continue regularly trimming evergreen trees and shrubs to keep them neat.
Spring bulbs that have completely died down may be lifted now. Leave them on the grass to dry off for a day or so before gently brushing off loose soil. Then spread them out in a single layer on a wire or plastic mesh tray and store in a cool, airy and dry place until autumn.
Buy a couple of pots of brilliant red poinsettias a week or two before Christmas. There's nothing quite like them to bring a real festive air to your home.
Indoor Plants:
Keep the air around indoor plants humid by regularly misting plants with a water atomiser.
Wipe leaves occasionally with a damp cloth to keep them clean.
If you are going away over the festive season, water all your potted plants thoroughly a day or so before leaving then move them all to the coolest part of the house. They will survive quite well for a couple of weeks without further water.
Feed fortnightly with ready to use Osmocote Pour+Feed Indoor Plants – no mixing required. There are also Pour+Feed products for orchids and cacti.
Lawns:
Regular mowing will keep existing lawns looking neat. Raise the cutting height to leave the grass longer to protect the crowns and runners of grasses from the sun. This also helps keep the soil and roots cooler. If it doesn't rain, water the lawn deeply at least once a week (if there are no restrictions in place) early in the morning before sunrise. 
Apply a slow release lawn food like Lawn Builder All Purpose to keep the lawn growing well. If your soil is hydrophobic (repels moisture), use Lawn Builder + Wetting Agent.
Lawn grubs may be problematic now in warmer areas. Use Lawn Builder + Grub & Insect to control them.
Pest Control:
Slugs and snails can be active whenever there are young plants around, Garden Galore Quash Slug & Snail Stoppa in a bait trap will protect your plants and keep your pets safe.
Watch for aphids and other sap-sucking pests like thrips on young plants and flowers
Check for powdery mildew on roses and other plants including pumpkins and zucchinis, especially when nights are warm and humid. Use a copper-based fungicide to control them.