Scotts Lawn Builder Superstrike Hardwearing Lawn Seed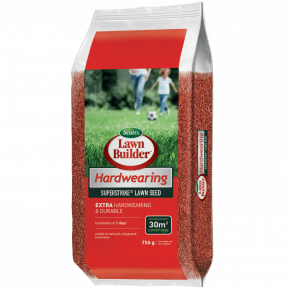 Scotts Lawn Builder Superstrike Hardwearing Lawn Seed
Scotts Lawn Builder Superstrike Lawn Seed features revolutionary technology so you can establish a lawn in as little as 7 days*.
Ensure your lawn withstands the everyday wear and tear of children, pets and cars with Scotts Lawn Builder Superstrike® Hardwearing Lawn Seed. This quality blend of ryegrass and turf fescue is ideal for producing a hardy textured lawn. Suitable for backyards, playgrounds and driveways.
FEATURES
Extra hardwearing & durable 
Germinates in 7 days*
Suitable for Backyards, Playgrounds & Driveways
Covers approximately 30m²
HOW TO USE
Lawns are best sown in early spring and early autumn. Clear the area to be sown by spraying weeds and removing existing debris and grass.
Prepare a firm, level bed by raking the soil and then lightly rolling to compact.
Sow seed evenly at a rate of 25g per m2. Sow in a north-south direction and then again in an east-west direction to ensure complete, even coverage.
Lightly rake to cover the seed.
Water gently and keep damp until germination is completed. Your lawn will benefit from regular watering, particularly in drier months.
Your new lawn will be ready to mow when it has reached a height of 5cm and the root system is established. Set blades high and ensure they are sharp to protect the young seedlings.
Subsequent mowing can be reduced in height to 2.5cm.
Once established fertilise your lawn with Scotts Lawn Builder Slow Release Lawn Fertiliser.
*Seeds will germinate in 7 days in ideal weather conditions and when the correct steps are followed.
In non-ideal weather conditions, germination can take up to 14 days.
TECHNICAL DETAILS 
Scotts Lawn Builder Superstrike® Lawn Seed has a unique seed treatment which encourages fast germination of lawn seed (7 days!*). The industry leading treatment also protects the seed from common fungal diseases during establishment and reduces bird theft. It includes an additive which effectively binds the treatment to the seed, minimising dust.
SAFETY INFORMATION
Store safely out of the reach of children and pets. Wear protective clothing including a mask and gloves when handling treated seed
SAFETY FIRST: Read the instructions on the product packaging before use and take particular note of any warnings or cautions on the label