Scotts Osmocote Mulch & Feed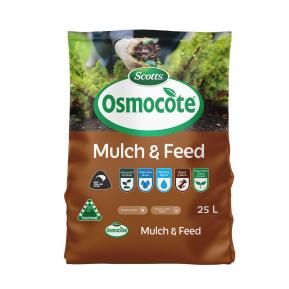 Scotts Osmocote Mulch & Feed
Osmocote® Mulch & Feed has been developed by horticultural experts to protect your garden from the elements while providing valuable nutrients.
Mulch & Feed protects plants from extremes in temperatures, suppresses weed growth, and helps your garden save water by channeling water to the roots and improving moisture retention. Ideal for all plant types.
FEATURE
Osmocote® Fertiliser: contains Osmocote Controlled Release Fertiliser to feed your plants as they need it.
Helps Save Water: improves your soils ability to retain water.
Wetting Agent: spreads water evenly to the root zone.
Blood and Bone for natural fertilising.
Suppresses Weed Growth: helps keep your garden healthy and weed free.
Keep out of reach of children and animals
HOW TO USE
Osmocote® Mulch & Feed is ready to use straight from the bag with no further additives required.
Prepare soil for mulching by removing any weeds and watering plants thoroughly.
Apply Mulch & Feed around plants as required to a depth of approximately 50mm.
Water thoroughly and watch your plants thrive.
ONGOING PLANT CARE
Be careful not to leave the mulch touching the trunk/stem of the plants as this can cause rot.
For best results, apply Osmocote® Mulch & Feed every six months
to keep your garden protected.