Scotts Osmocote® Pour+Feed Cacti & Succulents Liquid Fertiliser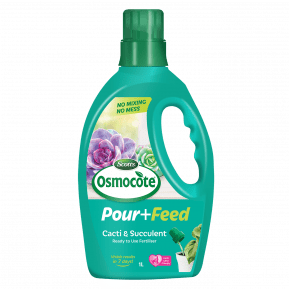 Scotts Osmocote® Pour+Feed Cacti & Succulents Liquid Fertiliser
Easy to use formula that is scientifically balanced to provide plants with a unique blend of essential nutrients for plants health and optimum growth.
Its double action works through the leaves and roots within minutes for fast-acting absorption of nutrients.
FEATURES
Apply with the easy pour measuring cap - no mixing, no drips, no hassles.
Ideal for all Cacti & Succulents
Contains a careful balance for larger, healthier plants with trace elements and biostimulants that resist diseases and insect attacks
Provides an instant boost of nutrients through rapid root and leaf absorption for strong, healthy growth
It is effective whether applied to the soil or leaves and goes to work immediately 
SUITABLE FOR
HOW TO USE
Using the cap, simply pour directly onto moist soil around the plant.  Water as required.  Feed Every 2 weeks.
DOSAGE
Pot WidthDosage9 - 11cm1/2 Cap12 - 19cm1 Cap20cm2 Caps
Health and Safety
Always read the pack label and product instructions carefully before use. For further information relating to product safety please review the product data safety sheet link below.