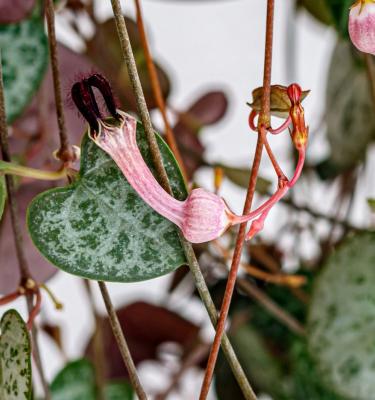 How to grow & care for Chain of Hearts
Chair of Hearts, despite their delicate appearance, are actually a succulent plant! Their long trailing tendrils can reach up to 3-4 metres long and they are covered in small, heart shaped leaves that often come in a mix of colours including purple, white and green.
Chain of Hearts trailing growth style makes them perfect for hanging baskets or pots on high shelves where they can cascade down dramatically.
Top 5 steps to growing Chain of Hearts 
Grow Chain of Hearts indoors as a houseplant or outside in a warm, protected spot. 
Their long trailing foliage is best shown off from hanging baskets or pots on high shelves.  
Chain of Hearts prefer a bright spot, away from direct sunlight - too much direct sun can burn their leaves. 
Too much water can easily kill them, so allow the potting mix to dry out between waterings. 
Shopping List
A Chain of Hearts Plant
A suitable pot or container with drainage holes
Planting
Choose a pot with plenty of drainage holes that's no more than twice the size of the original Chain of Hearts pot. Half fill the new pot with Scotts Osmocote Cacti & Succulent Potting Mix and gently remove your Chain of Hearts plant from its nursery pot. Place it on top of the potting mix in the new pot and backfill around the root ball with more potting mix. 
 
Water in your new Chain of Hearts and allow the potting mix to completely dry out before watering it again. 
 
Position your Chain of Hearts in a bright spot, without direct sunlight. They will often happily grow outside in a protected spot, in frost free climates - however they are more commonly used as a houseplant. 
 
As your Chain of Plant foliage grows longer you can loop it back over the potting mix - securing it with a small piece of wire to sit on the potting mix - to encourage more roots to form and effectively you'll create another plant which can help fill out the pot. 
Fertilising & Care
Allow the potting mix of your Chain of Hearts plants to dry out between waterings. They'll need more water during the warmer months and less during cooler periods. Too much water can cause the plants to rot. 
Chain of Hearts aren't very hungry plants, but they will benefit from a dose of a suitable succulent fertiliser during the warmer months when they are actively growing. Give your Chain of Hearts a fortnightly boost with Scotts Osmocote Pour+Feed Cacti & Succulents. For a consistent, long-term feed, sprinkle Scotts Osmocote Controlled Release Fertiliser for Cacti & Succulent around the base of the plant.
Pests & Diseases
Aphids, mealybugs and scale can from time to time become a problem on Chain of Hearts. Use Defender Pyrethrum Insect Spray to control them if needed. 
Yellowing or falling off leaves? Reduce watering and allow the potting mix to dry out between waterings.  
Leaves withered and wrinkled? Your Chain of Hearts needs watering. 
Burnt spots and/or dry and crispy? Your Chain of Hearts is exposed to too much direct sunlight, move it out of the sun.