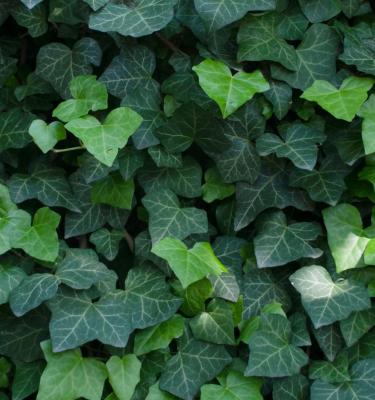 How to grow & care for English Ivy
English Ivy (Hedera helix) is a fast growing, creeping vine that is a serious environmental weed in many parts of Australia and should not be planted in outdoor gardens. However, English Ivy is commonly grown as a houseplant where it thrives in bright to low light conditions and looks beautiful cascading over the sides of a hanging pot. 
You'll also find a variegated form of English Ivy with white/green mottled leaves. To keep this variegation colouring strong make sure the plant is in a bright light spot - too little light and the plant will revert back to plain dark green leaves. 
Top 5 steps to growing English Ivy
Due to its weedy nature, English Ivy is best grown ONLY as a houseplant.
Use a premium, indoor plant potting mix like Scotts Osmocote Premium Potting Mix for Indoor Plants
English Ivy houseplants prefer a spot with bright light, but the dark green leaf forms will tolerate lower light spots. If it's not getting enough light your ivy will become sparse and leggy. 
Fertilise English Ivy with a fertiliser designed especially for indoor plants like Scotts Osmocote Pour+Feed for Indoor Plants
Remove dust buildup from the leaves of your English Ivy by hosing it off in the shower or under a gentle spray from a hose. 
Shopping List
An English Ivy plant
A suitable pot
A liquid fertiliser, either:
A controlled release fertiliser, either:
Garden trowel 
Growing Indoors
English Ivy should be planted into either a decorative pot with drainage holes or a plastic pot (with drainage holes) that fits snugly into a covert (without drainage holes). Choose a pot no more than 2 times the size of the original nursery pot. 
Half-fill your pot with Scotts Osmocote Premium Potting Mix for Indoor Plants and gently remove the English Ivy from the nursery pot and position it into the potting mix, backfill around the root ball with more potting mix. 
Water your new English Ivy in well, but take care not to allow it to sit in a pool of water. Tip out any water that collects in the cover pot or pot saucer. 
Fertilising & Care
Fertilise your English Ivy fortnightly with a general-purpose fertiliser, such as Scotts Osmocote Pour+Feed for Indoor Plants. This is a simple-to-use 'measure and pour' feed that contains the right balance of nutrients. Use Scotts Osmocote Mist+Feed for Indoor Plants weekly. This is applied to the leaves from where the plant can quickly absorb the moisture.  Add Scotts Osmocote Controlled Release Fertiliser for Indoor Plants to the soil surface or insert Scotts Osmocote Controlled Release Fertiliser Tablets for Indoor Plants into the potting mix every six months to provide an extra top-up of nutrients. 
If your English Ivy grows too quickly or hangs over the pot's edge too much you can cut off the longer stems and propagate them easily to make more plants! 
Pests & Diseases
English Ivy is very resistant to most pests and diseases. The most common cause of death as an indoor plant is rot - make sure you don't overwater your English Ivy or allow water to pool around the roots.