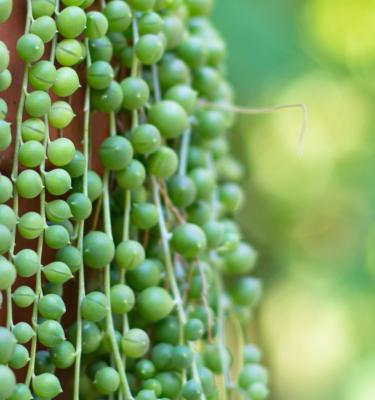 How to grow & care for String of Pearls
String of Pearls is a cascading succulent with pearl-like foliage, hence its name!
These succulents thrive best in a warm, dry spot with bright, indirect light.
Top 5 steps to growing String of Pearls
String of Pearls can be grown as indoor plants in a bright spot, with indirect sunlight or outdoors in a sheltered but bright position, out of direct sunlight.
String of Pearls don't like soggy wet potting mix, make sure your pot has plenty of drainage holes. 
Fertilise String of Pearls with a fertiliser designed specially for succulents
String of Pearls are not frost tolerant and they prefer a warm, dry climate. 
Shopping List
A String of Pearls plant
A suitable pot
Growing
String of Pearls need good drainage, so they should only be planted into either a decorative pot with drainage holes or a plastic pot (with drainage holes) that fits snugly into a coverpot (without drainage holes). Choose a pot no more than 2 times the size of the original nursery pot. 
Half fill your pot with Scotts Osmocote Cacti & Succulent Potting Mixand gently remove the String of Pearls from the nursery pot and position it into the potting mix, backfill around the root ball with more potting mix. 
 
Water your new String of Pearls sparingly and take care not to allow it to sit in a pool of water if it collects in the coverpot or pot saucer. After the first watering, allow the potting mix to completely dry out before watering again.
You can even "bottom water" String of Pearls plants, by sitting the pot in a shallow sink of water for a few hours and allowing the plant to take up the water it needs - remove it from the water and let it drain before putting it back. 
 
If some stems fell off as you repotted your String of Pearls, don't panic - you can propagate them to make more plants. Simply remove the lower half of the stems foliage and press it gently onto the surface of a pot filled with Scotts Osmocote Cacti & Succulent Potting Mix. Cover with more potting mix and place in a bright, but indirect spot 
Fertilising & Care
Fertilise String of Pearls with Scotts Osmocote Pour+Feed for Cacti & Succulents every two weeks in spring, summer and autumn.  At the beginning of Winter, sprinkle Scotts Osmocote Controlled Release Fertiliser for Cacti & Succulents onto the surface of the soil. This will provide a controlled release of nutrients for the coming months, until it's time to resume more regular feeding. 
Helpful Tip
If your String of Pearls is losing or dropping its pearls, then it could be too cold or too wet. String of Pearls prefer a temperature range between 21-29 degrees C and don't like humidity or wet feet. 
Pests & Diseases
Aphids, whitefly, spider mite and mealybugs can from time to time become a problem on String of Pearls plants - look for stunted and distorted new growth or obvious white patches on the foliage - use Defender Pyrethrum Insect Spray to control them if needed.