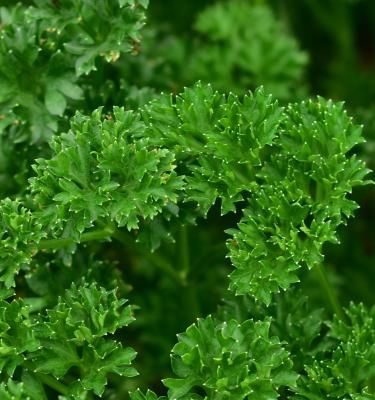 Parsley
Parsley is a prolific and easy-to-grow leafy green herb. There are two main types of parsley - flat-leaf parsley, also known as Italian parsley, and curly leaf parsley. Both have similar flavours and they can be used interchangeably in cooking - it's really a matter of personal preference. 
Parsley biennial plant - which means it will last a couple of years before going to seed at the end of its second summer. Parsley prefers to grow in a part to full sun spot in moist soil and will happily grow in a decorative pot. 
Top 4 steps to growing parsley 
Choose a full sun to part shade spot in your garden or grow in pots
Parsley needs regular watering to help prevent it from bolting to the seed
Remove flower heads to encourage more leaf growth
Parsley will easily self-seed in your garden if allowed to.
Shopping List
Prepare
Parsley can easily be grown from seeds or seedlings. Choose a full sun or part shade spot with moist soil or an area that receives regular irrigation.
Prepare the soil before planting by mixing Scotts Performance Naturals Organic Based Soil Improver and Scotts Performance Naturals All Purpose Organic Based Fertiliser through the top 10-20cm of soil. 
Planting in the garden
Grow parsley in a spot that you can pick easily and quickly as you need it. Established parsley plants will grow to around 30-50cm wide by 70cm tall, so give them some space to grow. 
Parsley is a great companion plant in the vegetable garden and will happily grow alongside tomatoes, asparagus and corn. But don't limit parsley to the vegetable garden, it can add a lovely pop of bright green foliage to flower beds and border gardens. 
 
Growing from seeds
Parsley seeds should be sown 5mm deep directly in the ground or punnets filled with Scotts Performance Naturals Organic Based Potting Mix. Germination can be very slow - soaking parsley seeds in water overnight before planting can help speed up the germination time. 
 
Once the seedlings have emerged, thin them out to be 10-15cm apart (if starting in punnets) or 25-30cm apart if you've direct sown them in the garden. When the seedlings are 10-15cm tall they can be transplanted into your garden if you started them in pots. 
Growing from seedlings
Plant parsley seedlings 25-30cm apart into prepared soil or Scotts Performance Naturals Organic Based Potting Mix if growing in pots. Water them in well and apply an open organic mulch around the plants to retain moisture. Parsley seedlings can easily be inter-planted with other crops in your vegetable garden. 
Planting in pots
Parsley will happily grow in medium size pots or containers about 30-40cm wide and deep. If you live in a particularly hot, dry region a self-watering pot would be ideal as parsley plants are prone to bolting to seed if they dry out too much. 
Fill the pot with Scotts Performance Naturals Organic Based Potting Mix, before removing the parsley plant from its nursery pot (or seperate the smaller seedlings if you've purchased a punnet of parsley seedlings) and plant into the prepared potting mix. Backfill around the plants and water in well. 
Add a light layer of open organic mulch to retain moisture during the warmer months and suppress weeds. 
 
Harvest & Maintenance
You can begin harvesting parsley 6-8 weeks after planting and continue harvesting as you need it - cutting off the stems with sharp pair of scissors or secateurs. Cut at the base of stems to encourage new growth.
Prune off flowers to prevent seed heads from forming and prolong the green leafy growth of your parsley plant. 
Parsley doesn't need a lot of fertiliser but will benefit from a dose of Scotts Performance Naturals All Purpose Organic Based Fertiliser in spring and autumn. 
 
​
Pests & Diseases 
Parsley is relatively pest and disease free, although slugs and snails will cause significant damage to young plants or seedlings. Protect your parsley crop by setting beer traps (saucers filled with beer) or use Defender Snail & Slug Pellets.
To protect your parsley from possums or other animals use wildlife-friendly white netting. Create tunnels or frames over your crops so that the netting can be pulled tight which will help prevent animals from becoming tangled in it.