Debco® Horticultural Sand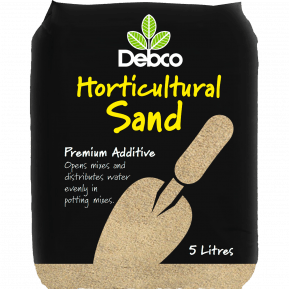 Debco® Horticultural Sand
Opens mixes and distributes water evenly in potting mixes.
A Premium grade ingredient for gardeners wanting to create their own mixes
FEATURES
Debco Horticultural Sand helps to distribute water evenly in potting and planting mixes preventing dry areas within the mix
Horticultural sand increases porosity by opening soils offering plenty of drainage and aeration for plants like cacti & succulents, orchids and propagated cuttings
Horticultural Sand is sourced from mined sands to ensure it is pathogen & disease-free
SUITABLE FOR
Use to add weight to potting mixes to prevent tall, top-heavy plants from blowing or tipping over
Debco Horticultural Sand is ideal in the following applications:

Seed raising mix 
Regular potting mix
HOW TO USE
Creates 10 Litres of Mix
Seed Raising Mix
• 8.5L Peat Moss (85%)
• 1.5L Horticultural Sand (15%)
• 250ml Vermiculite
Blend Peat Moss and Horticultural Sand to create a seed raising mix.
Sprinkle Vermiculite as a fine layer on top of the mix.
Regular Potting Mix
• 8L Regular Potting Mix (80%)
• 2L Horticultural Sand (20%)
Blend regular potting mix and Horticultural Sand to open the mix and distribute water, adding weight and preventing the pot from tipping over.
SAFETY INFORMATION
This product contains micro-organisms
Avoid breathing dust or mists
Wear a particulate mask it dusty
We recommend you always wear gloves when gardening and keep the product moist when handling
Wash hands immediately after use
Read the detailed warning label on the bag
TECHNICAL DETAILS
Horticultural Sand is sourced from mined sands to ensure it is pathogen & disease-free
Health and Safety
Always read the pack label and product instructions carefully before use. For further information relating to product safety please review the product data safety sheet link below.

Debco® Horticultural Sand
5L (other sizes available)