Scotts Osmocote® Boost+Feed All Plant Types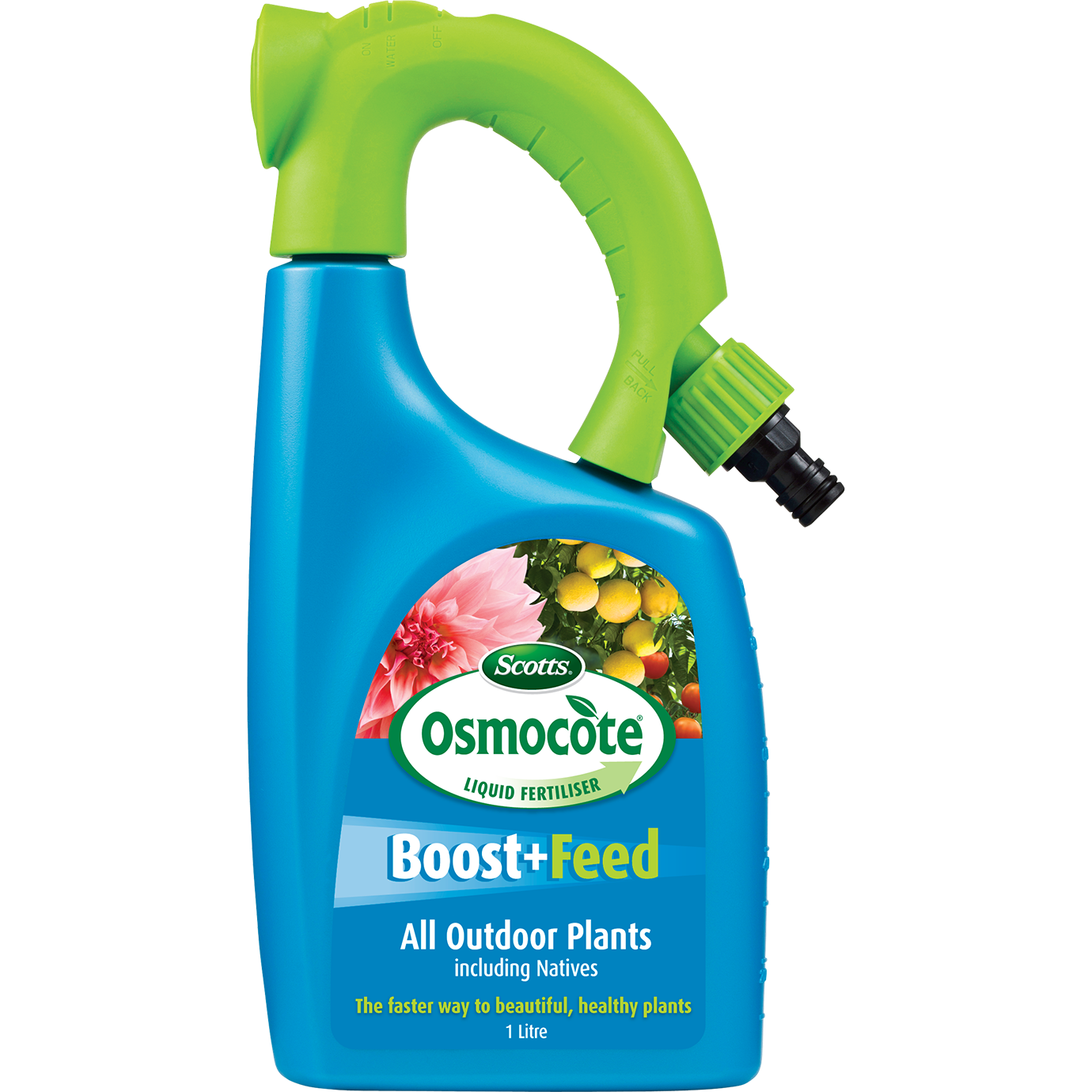 Scotts Osmocote® Boost+Feed All Plant Types
Easy to use, unique formula that is carefully balanced to provide plants with essential nutrients for optimum growth and plant health. Its double action works through the roots and leaves, so your plants absorb nutrients within minutes
FEATURES
Provides an instant boost of nutrients through rapid root and leaf absorption for strong, healthy growth
Includes a blend of biostimulants resulting in lots of earthworms and soil microbes that build healthy soils and productive, vigorous plants
Can be applied at any time of the year when plants are actively growing. Avoid using when temperatures are expected to exceed 30C
It goes to work immediately and is effective whether applied to the soil or leaves
Hose-on 
The 1L Easy Spray bottle is perfect for small gardens, quick fertilising tasks and covers up to 180 m2
SUITABLE FOR
All trees and shrubs including natives - it has a low phosphorus content
All flowering and leafy annuals, perennials, climbers and groundcovers
All vegetables, herbs and fruits
Potted plants including vegetables, herbs, palms and indoor plants
NOT SUITABLE FOR
Do not use on lawns - use only specifically named fertilisers on grassed areas
Do not apply to young seedlings or indoor plants
HOW TO USE
Easy Sprayer
Shake the bottle well before attaching to the hose - ensure the thumb switch is in the OFF position first
Tighten the hose connector on the handle prior to connecting the hose; turn the hose tap on
Slide the thumb switch to the ON position to FERTILISE or slide to the WATER position to just water your garden
Walk slowly using a sweeping action to evenly distribute the spray over the measured garden area (the bottle should empty in approximately 12 - 13 minutes
When finished, switch to OFF position and turn the water off
WHEN TO USE
Apply to soils at planting time
Apply when your plants need a boost, particularly during main growing periods – early Spring, early Summer and early Autumn
EASY SPRAYER
Situation

How Often

Garden Beds & Pots

Annuals & perennials
Established trees & shrubs
Plant Repair
Stressed Plants

Apply every 2 or more weeks

Soak the soil around the plant to feed the roots
 

Foliar feeding every 2 or more weeks

Wet the leaves and soak the soil
SAFETY INFORMATION
CAUTION: This product may cause staining of hard surfaces if wet. Avoid contact with hard surfaces and if contact does occur, hose off immediately.
SAFETY FIRST: Read the instructions on the product packaging before use and take particular note of any warnings or cautions on the label
See the Safety Data Sheet for the Easy Sprayer Hose-on
TECHNICAL DETAILS
Safe to use on all edibles
The Easy Sprayer ensures the 1L hose-on bottle will cover up to 180m2 with an effective supply of fertiliser.
When the Easy Sprayer bottle is not being used or is being carried/transported, ensure the thumb switch on the handle grip is in the OFF position to prevent leakage
Health and Safety
Always read the pack label and product instructions carefully before use. For further information relating to product safety please review the product data safety sheet link below.