Scotts Osmocote® Controlled Release Fertiliser: Water Gardens & Aquatic Plants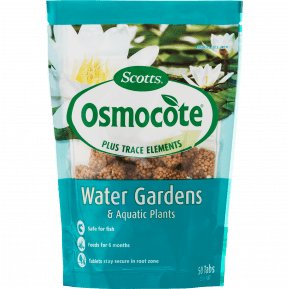 Scotts Osmocote® Controlled Release Fertiliser: Water Gardens & Aquatic Plants
A set and forget, no-fuss water plant fertiliser designed for your water gardens and aquatic plants to stimulate lush green growth and vibrant. Tabs feeds for up to six months.
FEATURES
Scotts Osmocote® uses advanced prill technology that ensures even and controlled nutrient release with no wastage
The tabs have a non-soluble outer shell which protects fish from overexposure to fertiliser salts
Nutrients are slowly released as plants need them so there's no nutrient build-up in the water and no risk of algal blooms
The tabs offer a simple and effective solution to your aquatic plants' needs
SUITABLE FOR
Plants growing in aquatic environments including dams, ponds and fish tanks
Hydroponic growing systems
All plants except natives
Safe to use in fish ponds and tanks - there is no build-up of nutrients in the water that could make it harmful to aquatic life
NOT SUITABLE FOR
Phosphorus-sensitive plants - Australian natives, proteas, leucospermums and leucadendrons
General garden or pot plant uses
HOW TO USE
Apply in early Spring, when temperatures are rising and plants are putting on new growth, and repeat in early Autumn
Work your way around the inside diameter of every potted aquatic plant or water feature inserting tabs evenly into potting mix or pond soil, making sure they are firmly in place
Push aquatic fertiliser tabs approximately half the depth of the root ball
Use the rates in the table below as a guide for how many tabs to use
APPLICATION CHART
| | | | |
| --- | --- | --- | --- |
| Fish Tanks | 10-15L | 15-30L | Over 30L |
| Pot Width | Up to 15cm | 20-25cm | Over 30cm |
| No of Tabs | 1 | 2 | 4 |
Note: TBL - tablespoon = 15g
For a complete guide on How to Use Scotts Osmocote® Plus Trace Elements Water Gardens & Aquatic Plants, always check the packaging
WHEN TO USE
Apply in early Spring, when temperatures are rising and plants are putting on new growth; repeat in late Summer or early Autumn
SAFETY INFORMATION
SAFETY FIRST: Read the instructions on the product packaging before use and take particular note of any warnings or cautions on the label
See the Safety Data Sheet for this product
TECHNICAL DETAILS
NPK 14 : 3.5 : 9.1
Contains trace elements for healthy growth and flowers
Scotts Osmocote® is a controlled release fertiliser that consists of prills (small beads) of high-quality fertiliser encased in a permeable and biodegradable soy extract coating
Each prill contains a balanced microdose of nutrients so a plant's response from an application is reliable and consistent
Health and Safety
Always read the pack label and product instructions carefully before use. For further information relating to product safety please review the product data safety sheet link below.

Scotts Osmocote® Controlled Release Fertiliser: Water Gardens & Aquatic Plants
50 Tabs (other sizes available)