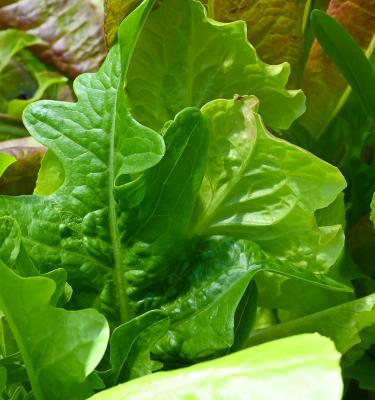 Grow your own Salad Greens
Grow your own leafy vegetables for garden fresh salads every day, nothing tastes better! By growing a range of different types and sowing at different times of the year, there will be fresh salad leaves all year round. Many salad leaves can be grown as cut-and-come-again crops without having to remove the whole plant when harvesting.
When to grow
Sow – January to December
Plant – January to December
Harvest – January to December
Varieties to grow
Oriental brassicas: bok choy and tatsoi are fast growing, great for salads and stir fries and can be ready for picking in as little as 50 days.
Spinach: unlike other spinach, New Zealand spinach grows well in hot dry weather. Perpetual spinach is easy to grow and responds to continual picking. 'Pop Eye' is a popular variety for salads, stir fries and other culinary dishes. Ready in as little as 21 days.
Lettuce varieties: loose leaf red and green Oak Leaf, heirloom variety 'Drunken Woman', Cos, 'Little Gem' is cross between a Cos and hearting lettuce, hearting Iceberg. Loose leaf varieties are great for cut-and-come-again crops without having to harvest the whole plant. Ready to pick in 21 days.
Mizuna: dark green feathery leaves to add texture to salads, easy to grow, ready to pick in as little as 21 days.
Rocket: tangy tasting leaves add zing to salads, does better in cooler weather. Ready to eat in 28 days from sowing.
Lambs lettuce (corn salad): the perfect salad green for winter when other salad vegetables slow down, easy to grow, ready to pick in as little as 14 days.
Grow your plant
Step 1
Select pots or a seed tray with good drainage and fill with a quality seed raising mix such as Scotts Osmocote Seed Raising & Cutting Mix. Lightly water the mix before sowing seed. 
Step 2
Select one seed variety or mix several together and scatter evenly over the surface of the prepared seed raising mix.
Step 3
Lightly cover the seeds with seed raising mix and gently press down so that the seed is in contact with the mix. Water gently.
Step 4
Place the sown seeds where they will be regularly watered, keep the mix consistently moist, but not wet, avoid over watering.
Step 5
Once the second set of true leaves appear the seedlings are ready to be transplanted into bigger pots filled with Scotts Osmocote Vegetable Mix to grow on before planting out.
Step 6
Before planting out, harden the seedlings off by placing them outside during the day and bringing them in at night, do this for 7-10 days. Prepare garden beds for planting by digging in Scotts Osmocote Compost & Soil Improver.
Tip
Seeds do not need light to germinate, but as soon as the seedlings emerge, they must be placed in a well lit position, not direct sunlight, so they do not stretch and grow long and leggy.
To make sure seeds do not dry out, place the seed tray or pots into a plastic bag and loosely seal with a twist tie ensuring there is air circulation. Keep in a warm spot until the seeds germinate and remove the plastic bag as soon as the seedlings emerge.
Sowing seed directly into the garden
Some seed can be sown directly into the garden, check the seed packet before planting. 
Step 1
Before sowing seed, dig in Scotts Osmocote Compost & Soil Improver to enrich the soil.
Step 2
Make shallow furrows in the soil. Place 2cm of Scotts Osmocote Seed Raising & Cutting Mix in the bottom of the furrows and water to settle the soil.
Step 3
Sow the seed as directed on the packet. Lightly cover with seed raising mix.
Step 4
Press soil gently, water lightly and ensure soil is kept moist during germination.
Step 5
Once seedlings are 2.5cm high they can be thinned out to 5cm spacings or spacings recommended on the seed pack.
Tips
Weather can affect seed germination and young seedlings, protect with a cloche or crop cover to give them the best start possible. 
Sow in short rows every fortnight or so, enough for your needs, to have a continuous supply of leafy salad vegetables.
Most salad vegetables can also be grown in small pots, window boxes, grow-bags or planters. Grow some in containers on the windowsill to have them ready at your fingertips – great for times when it may be too cold outside.
Plant care
Salad leaves prefer an open, sunny position, although they will tolerate light shade. During hot, sunny summers, they will do better in a shaded spot to protect them from wilting, too much sun can make lettuce taste bitter.
Keep the soil moist at all times, but without overwatering. If the soil dries out the plants may bolt (go to seed prematurely) and lose their strong flavours.
Slugs and snails love juicy young seedlings, sprinkle Scotts Quash Slug & Snail Killer around plants every 7-10 days to keep them at bay.
Mulch vegetable plants to conserve soil moisture, keep weeds at bay and to add nitrogen rich organic matter back into the soil with Scotts Pea Straw. 
Harvesting
Harvest leaves as and when they are needed once the plants are about 7.5-10cm high. You can either pick individual leaves from the outside of the plants or harvest over the whole plant using scissors.
It is best to cut in the morning, when the plants will be at their freshest.