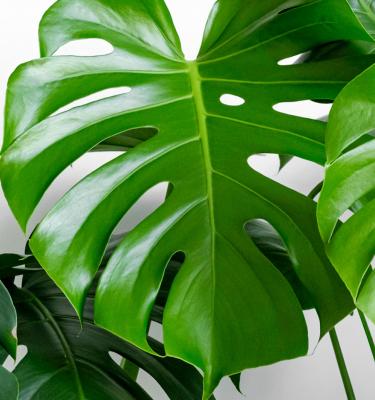 How to grow and care for monstera
Monstera deliciosa is also commonly called the swiss cheese plant, fruit salad plant or monstera. Its large green glossy leaves become full of holes as they mature and it can be a monster grower in the right conditions. 
Grow your plant 
Monstera prefers a bright spot indoors, with indirect or morning sun only, although it will also grow outdoors in a shaded and protected, frost free spot. These plants are natural climbers, so provide them with a coir or moss-covered totem pole for support.  
Step 1 
Choose a pot for your monstera that's roughly 2 times the size of the original nursery pot - make sure it has drainage holes or use a black plastic pot that sits snuggly inside a decorative cover-pot with no holes.  
Step 2 
Half fill your pot with Scotts Osmocote Premium Potting Mix and gently remove the monstera from its original pot and position it into the potting mix. Fill around the root ball with more potting mix so that the mix is level with, or slightly below, the top of the pot for watering. 
Step 3 
Water your new monstera well and tip out any excess water from the base of the cover-pot or saucer (if using). Although monstera like a moist potting mix they don't like wet feet, so don't let water pool in the base of cover-pots or in saucers as they'll quickly rot if their potting mix remains soggy or waterlogged. 
Tip
Monstera are vining plants so they will need support to climb upwards. A moss pole is ideal for this and provides a place where the aerial roots can take hold. 
Feeding
Feed monstera fortnightly in spring and summer with an indoor plant fertiliser to encourage new growth. Use Scotts Osmocote Pour+Feed for Indoor Plants liquid fertiliser - this is a simple to use 'measure and pour' feed which contains the right balance of nutrients.
If you'd prefer a longer term fertilising option, with less applications, apply Scotts Osmocote Controlled Release Fertiliser for Indoor Plants in early spring and again in early autumn - this product feeds for up to 6 months.  
Plant care
Monstera can tolerate drying out between waterings during winter, so make sure the top 2-5cm of soil is dry before watering again. A moisture metre will help to determine if watering is required. A simple watering test is to push the index finger into the mix, if it feels dry, water, if it feels damp leave it for a couple of days before watering.
In the warmer months of spring and summer monstera will appreciate a more regular watering and a higher humidity. To increase the humidity around monstera, group them with other plants to create a microclimate or mist them with a spray bottle regularly. You can also sit their pot on a saucer filled with pebbles and water which helps raise the humidity around the plant too.
Remove any dead or damaged leaves at the base of the stem to promote new growth. If the tips of your monstera leaves go brown it could be too much sun, too much water, or lack of humidity - try moving it to a spot with less direct sunlight (or a space with morning sunlight only) or allow the potting mix to dry out before watering again. 
Because the monstera leaves are so large, they need to be cleaned of dust regularly - use a damp, soft cloth to gently wipe each leaf to remove dust.