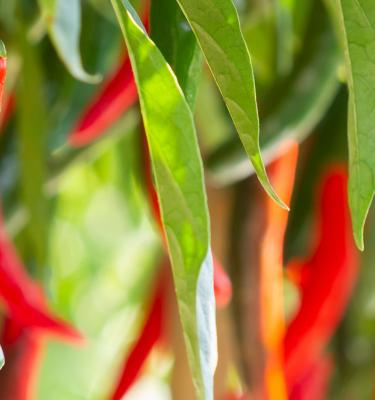 How to grow chillies
Chillies are popular as they are an easy crop to grow given the right conditions. Chillies don't need a lot of special care and come in a rainbow of attractive colours, sizes and degrees of hotness. They can be mild through to fire-breathing and sweat inducing hot. They are equally happy planted in the garden or in pots and containers.
When to grow
Sow: September to October
Plant: October to November
Harvest: January to April
Varieties to grow
Caroline Reaper – Intensely hot
Habanero – Extra hot
Bird Eye – Quite hot
Cayenne - Hot
Jalapeno – Moderately hot
Anaheim – Mild heat
Grow your plant
Step 1
Sow seeds in a small pot or seed raising tray as per seed packet sowing instructions, into a quality seed raising mix such as Scotts Osmocote Seed Raising and Cutting Mix. Water mix well before sowing seed.
Step 2
Cover seed lightly and water well. Keep seed moist, but not wet. Germination can be improved by placing a sheet of glass over the seed tray or a clear plastic cover over the pot. Place in a warm sunny spot and remove cover once seeds germinate.
Step 3
Once seedlings have two true leaves, or are 6-7cm high, prick them out of the seed tray or pot and transplant into 10cm pots filled with Scotts Osmocote Premium Potting Mix.
Step 4
Grow seedlings until they're 10-15cm high and are ready to plant out. 
If planting in the garden harden seedlings off for 7-10 days by placing the pots outside during the day and bringing in at night. Do this with glasshouse raised seedlings as well to reduce transplant shock.
Tips
Plant in sunny sheltered spot. Chilli plants are frost tender, so plant outside in the garden once the risk of frost has passed.
Some of the hotter varieties will take longer to germinate and require more heat during germination. Place them in a glasshouse or on a sunny windowsill to improve germination.
Planting in the garden
Step 1
Plant into garden beds prepared with Scotts Osmocote Premium Potting Mix.
Step 2
Soak plants in a bucket until the bubbles stop rising. Drain before planting. 
Step 3
Dig a hole twice the diameter of the root ball and place the chilli seedling in the centre of the hole. Back fill and firm mix in around the plant. 
Plant to a depth the same level as it was in the original pot.
Step 4
Stake plants at the time of planting. Pinch out the growing tips and side shoots to encourage flowering when plants are 15-20cm tall.
Planting in pots and containers 
Step 1
Select a pot with good drainage holes. Part fill with Scotts Osmocote Premium Potting Mix.
Step 2
Before planting, soak seedlings in a bucket of water until the bubbles stop rising and drain. 
Step 3
Place the plant in the centre of the pot and start filling, firming as you go until the mix is 3cm from the top of the pot. Plant to a depth the same level as it was in the original pot. Tap the pot to settle the mix and water well.
Step 4
Place the plant in a sunny sheltered spot. Stake at the time of planting and pinch out the growing tips to encourage flowering when 15-20cm tall. Water regularly throughout the growing season.
Tips 
To bring out the heat in intensely hot chilli varieties grow them in a glasshouse.
The hotter the variety the longer the growing process will take (from germination through to ripening), so bear this in mind when selecting your preferred type and start them inside earlier (July).
Plant care
Harvesting
Pick the chillis as needed once it they have reached a good size. You can either pick them when they're green when the flavour is quite mild or leave them on the plants until they have turned red, which develops a stronger, hotter flavour.
Harvest your chillies by snipping the top of the stalk with sharp secateurs. Frequent harvesting of the fruits allows the plant to devote its energies to developing more fruit.
Chillies can be dried or frozen for later use.