Scotts Osmocote® Garden Soil Planting Mix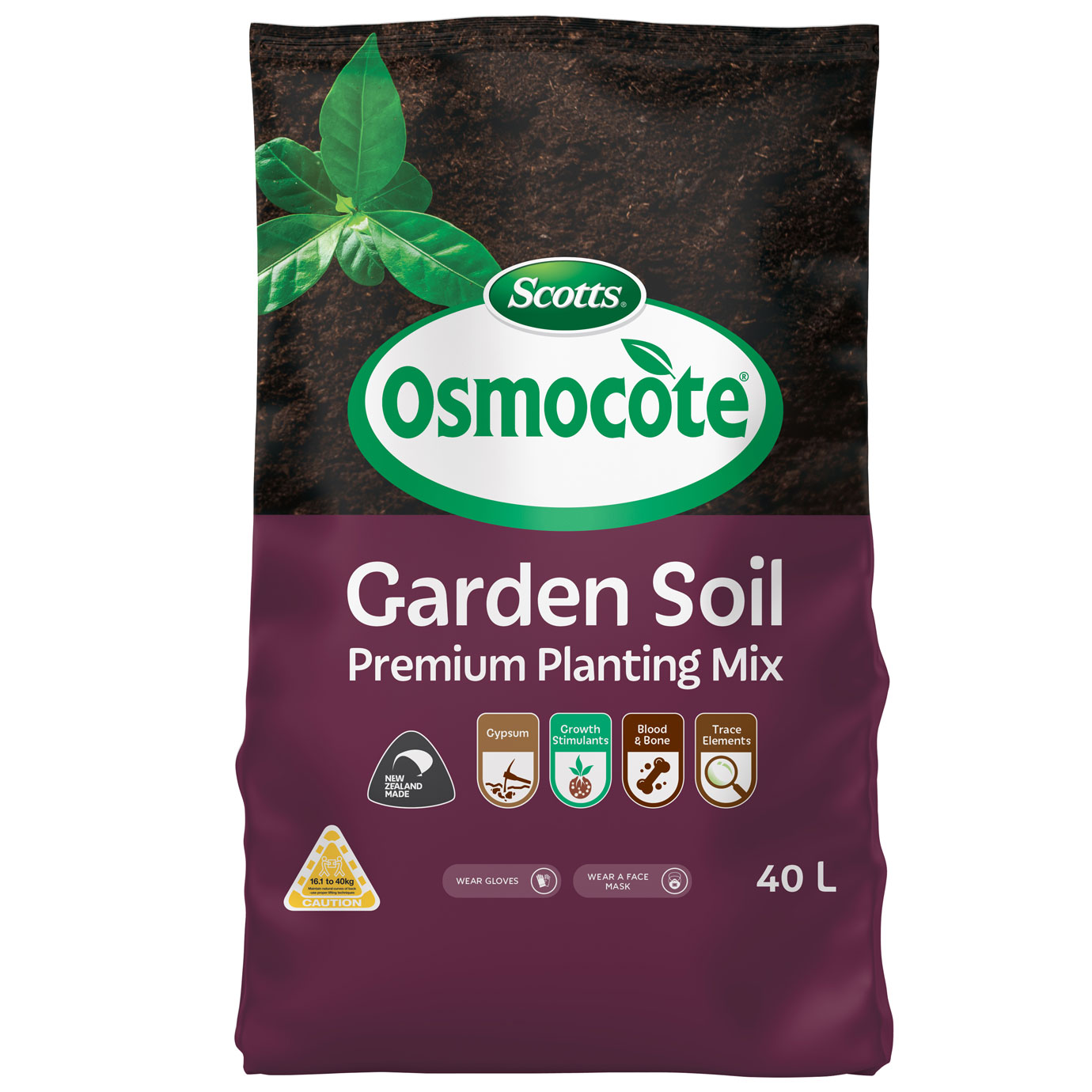 Scotts Osmocote® Garden Soil Planting Mix
Osmocote® Garden Soil Premium Planting Mix has been developed by horticultural experts to provide the ideal moisture and nutrient environment for healthier plants.
This formulation is ideal for constructing new landscape garden beds or improving soil conditions in existing garden beds.
Suitable for all plant types including annuals, trees, shrubs and natives.
FEATURES
Gypsum: improves the structure of compacted clay soils.
Growth Stimulants encourage strong root development for healthier, more vigorous plants.
Blood and Bone for natural fertilising.
Trace Elements: micro-nutrients vital for healthy plant growth.
SUITABLE FOR
Vegetable gardens including raised beds.
Garden beds to reinvigorate tired and depleted soils.
All plants including phosphorus-sensitive natives.
NOT SUITABLE FOR
Don't use in hydroponic growing systems, ponds or pots submerged in water
Don't use on lawns - use only specifically named lawn topdress soils on grassed areas
HOW TO USE
Osmocote® Garden Soil Premium Planting Mix is ready to use straight from the bag with no further additives required.
AS A PLANTING MIX
Water the plant and allow it to drain.
Add a layer of mix to the planting area.
Dig a hole approximately twice the size of the plant's root ball.
Carefully turn the plant out of its existing pot, gently loosen the root ball and trim off any dead or damaged roots.
Partly fill the hole with mix, position the plant so the top of the root ball will remain at the same level, and fill up with mix.
Press gently around the base of the plant.
Thoroughly water the plant and then frequently enough to ensure the mix remains moist but not wet until the plant is well established.
AS A SOIL IMPROVER
Add a 10cm deep layer of Osmocote® Garden Soil Premium Planting
Mix and dig into the existing garden bed soil to a depth of 15cm.
ONGOING PLANT CARE
Osmocote® Garden Soil Premium Planting Mix contains a balanced fertiliser but depending on plant needs, additional fertiliser will be required in time.
To maintain moisture and soil temperature, add a layer of mulch, avoiding the plant stem as this can cause disease.
For best results, top up the soil every time you plant.
SAFETY INFORMATION
SAFETY FIRST: Read the instructions on the product packaging before use and take particular note of any warnings or cautions on the label
When using soils and potting mixes, we recommend the use of garden gloves to protect your hands. If dusty, wear a face mask. 
TECHNICAL DETAILS
Suitable for use on and around native plants and other phosphorus-sensitive plants.
Contains gypsum, which turns clay into workable soil without altering the pH (acidity or alkalinity reading)
Health and Safety
Always read the pack label and product instructions carefully before use. For further information relating to product safety please review the product data safety sheet link below.