Scotts Osmocote® Garden Soil Planting Mix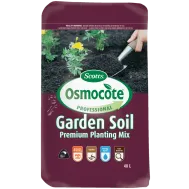 Scotts Osmocote® Garden Soil Planting Mix
Osmocote® Garden Soil was developed for outdoor use by horticultural experts as a superior replacement for top soil, manure and other in-ground garden and planting soils.
This blend of organic composted material and added Osmocote® controlled release plant food is designed to be mixed in the ground with the existing native soil. Used as directed, it will provide the best possible environment to grow beautiful deciduous, evergreen, all perennial flowers, vegetables and flowering trees and shrubs.
FEATURES
Enriched with Osmocote® controlled release plant food to provide essential nutrients for strong root development and to promote healthier flowers and vegetables.
Enriched with Gypsum, a natural clay breaker that improves soil aeration and root penetration.
Contains wetting agent that delivers water & nutrients to the roots, increasing water movement throughout the garden soil to help prevent dry spots.
SUITABLE FOR
Vegetable gardens including raised beds, tubs and planter boxes to improve soil texture and encourage beneficial soil microbes
Garden beds to reinvigorate tired and depleted soils
All plants including phosphorus-sensitive natives
Safe to use for new plants - the well-composted organics and controlled release of nutrients from the Scotts Osmocote® mean it will not burn soft leaves or tender young roots
NOT SUITABLE FOR
Don't use in hydroponic growing systems, ponds or pots submerged in water
Do not use on lawns - use only specifically named lawn topdress soils on grassed areas
HOW TO USE
Improving flower and vegetable gardens:
Add Osmocote® Garden Soil to your garden area.
Thoroughly work it into the top 10 to 15cm of soil.
Level the garden with a rake.
 Plant seeds or live plants, following specific package or plant tag instructions.
Water thoroughly after planting and as frequently as possible until plants are well established.
For best results, wait 6 months, then feed regularly with Osmocote® controlled release plant food, following package instructions.
Creating raised garden beds:
Follow the directions above.
Add an additional 10cm layer of Osmocote® Garden Soil to the bed and mix it into the previously amended soil. This should create a 15 to 20cm raised bed.
WHEN TO USE
Garden Soil can be added to gardens at any time of the year, either incorporated into planting soil or as a topdress.
TIPS
Water thoroughly. It is better to thoroughly soak the garden weekly, than to provide light daily irrigation. Very fast growing plants like tomatoes, petunias, etc., may require more frequent watering.
Do not let plants wilt . This will increase plant stress and diseases that will decrease plant performance.
SAFETY INFORMATION
SAFETY FIRST: Read the instructions on the product packaging before use and take particular note of any warnings or cautions on the label
When using soils and potting mixes, we recommend the use of garden gloves to protect your hands. If dusty, wear a face mask. 
TECHNICAL DETAILS
Suitable for use on and around native plants and other phosphorus-sensitive plants - the included Scotts Osmocote® has less than 2% phosphorus
Contains gypsum, which turns clay into workable soil without altering the pH (acidity or alkalinity reading)
Health and Safety
Always read the pack label and product instructions carefully before use. For further information relating to product safety please review the product data safety sheet link below.