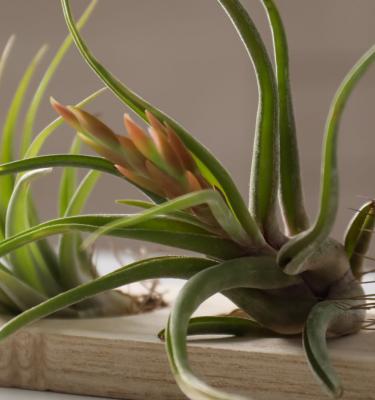 How to grow & care for Air Plants
Air Plants (Tillandsia spp.) do not need soil to grow and they don't really have roots like other plants - the roots they do produce aren't meant for soil, instead they use them to attach themselves to other plants.
Air Plants are one of the simplest and easiest plants to grow, making them perfect for beginners or kids!
There is a huge range of Air Plants to choose from, with some preferring dappled shade or part sun spot and others that will tolerate more full sun positions.
 
Top 4 steps to growing Air Plants 
Air Plants do not require soil of any kind. So they can be hung from trees or other plants indoors or simply placed on a decorative saucer or surface. 
Air Plants take up their nutrients through their leaves, so mist them once a month with a specialised foliar fertiliser, like Scotts Osmocote Mist+Feed for Orchids
During hot, dry weather Air Plants will need misting a couple of times a week, but in winter they can normally get away with little or no watering. Air Plants can also be watered by submerging them in water for 10-15 minutes. 
Air Plants make beautiful living ornaments and can be glued onto various surfaces.
Shopping List
An Air Plant
A display piece to showcase your Air Plant
Growing
Air Plants should NOT be planted into soil or potting mix. Instead position your Air Plant on a saucer or decorative ornament to showcase it. Air Plants also look incredible sitting in glass bowls or glass hanging ornaments - so they can be admired from all angles. You can use a hot glue gun to stick Air Plants to various surfaces and get very creative with their display. 
Air Plants prefer a bright spot in part shade or dappled sunlight away from extremely hot, afternoon sun. 
Here are some interesting Air Plant species you might like to try to plant:
Tillandsia andreana - A small air plant with a beautiful bright red flower.
Tillandsia bulbosa - Twisted green foliage with an unusual misshapen bulb from which a pink-purple flower emerges.  
Tillandsia caerulea - Pale purple flowers which appear on the tips of slender silver leaves. 
Tillandsia cyanea 'Pink quill' - Almost fluorescent purple flowers, with red and pink bracts beneath the emerging flower.  
Tillandsia tectorum 'Snow' - Frizzy grey foliage with what looks like a sprinkling of white snow coating the leaves.  
Tillandsia usneoides 'Spanish moss' - Cascading, thick, silvery foliage is lengthy and very unusual, with inconspicuous flowers.  
Tillandsia xerographica - This species grows up to a metre wide and high, with large reddish-purple flowers. 
Fertilising & Care
Air Plants with thick, rigid leaves are more tolerant of hot and dry conditions, whereas those species with softer green leaves originate from more humid and wet climates. 
Air Plants can be watered with a misting spray bottle or by submerging the whole plant in water to soak for 10-15 minutes. They'll need more water during hot, dry weather but less in winter. Make sure your Air Plant is never left sitting in water as it's likely to rot - they do like to dry out between waterings. 
Because Air Plants don't have roots to take up nutrients, they need to be misted with fertiliser during spring and summer. Use Scotts Osmocote Mist+Feed for Orchids once a fortnight during the warmer weather and once a month in winter. 
Pests & Diseases
Air Plants are generally pest and disease resistant. However if you notice patches appearing on the leaves, they could be infested with Mealybugs. Spray the plant thoroughly with Defender Pyrethrum Insect Spray to control these pests. 
Do not overwater or allow Air Plants to sit in water - they can rot if they aren't allowed to dry out between waterings.