Scotts Osmocote® Pour+Feed Orchid Liquid Fertiliser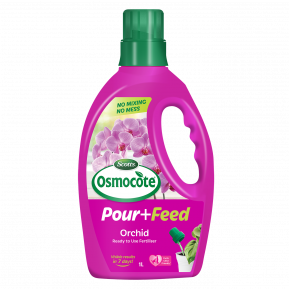 Scotts Osmocote® Pour+Feed Orchid Liquid Fertiliser
Spoil your orchids with Osmocote Pour+Feed for Orchids! It's simple to use with an easy pour measuring cap which means no mixing, no mess and no fuss. This ready to use liquid fertiliser is formulated to give orchids the nutrients they need with visible results in just 7 days! A carefully balance blend of nitrogen, potassium and phosphorus is boosted with potassium and iron for beautiful blooms and greener foliage.
FEATURES
Ready to use liquid fertiliser for Orchids
Boosted with potassium and iron for more beautiful blooms
Ideal for all types of orchids, both indoor and outdoor
Each dose contains the perfect NPK balance for your orchids
SUITABLE FOR
All types of Orchids including Cymbidiums, Dendrobiums, Phalaenopsis and Bromeliads
HOW TO USE
Pour a capful of Osmocote Pour+Feed Liquid Fertiliser directly onto moist soil around your orchid. It's that simple! Continue to water as required and use Pour+Feed every fortnight.
DOSAGE
| Pot Width | Dosage |
| --- | --- |
| 9 - 11cm | 1/2 Cap |
| 12 - 19cm | 1 Cap |
| 20cm | 2 Caps |
Health and Safety
Always read the pack label and product instructions carefully before use. For further information relating to product safety please review the product data safety sheet link below.

Scotts Osmocote® Pour+Feed Orchid Liquid Fertiliser
1L (other sizes available)