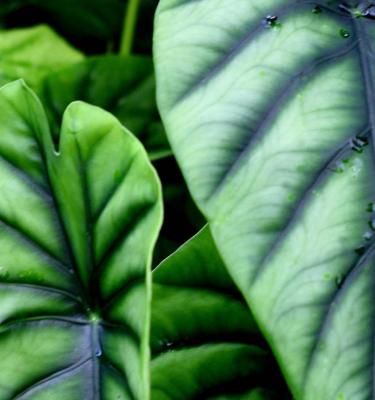 How to grow & care for alocasia
Alocasia, also called Elephant Ears, are tropical herbaceous perennials that grow from a tuber or rhizome beneath the ground. In areas where the winter is cool alocasia will die back and hibernate beneath the soil, ready to burst back with new growth when the weather warms up. If you live in a warm climate or can provide it with year-round warmth your alocasia may not die back at all. 
Indoor-grown alocasias love a warm and humid environment, with bright and indirect sunlight. You can grow alocasia outdoors in a warm, frost-free climate - simply choose a part-shaded spot, with moist but free-drained soil. 
There are many species of alocasia with various leaf colours and sizes. Look out for:
Alocasia macrorhiza - one of the biggest of the alocasias with huge leaves. 
Alocasia 'Zebrina' - with arrow-shaped leaves and black/white striped stalks this alocasia has wow factor!
Alocasia reginula 'Black Velvet' - stunning, dark green - almost black leaves with thick white veins. 
Top 5 steps to growing a Alocasia
Alocasisa prefer a spot with medium to bright indirect light. If growing them outdoors choose a spot with dappled morning sunlight or a part shade spot. 
If growing in pots use a premium, like Scotts Osmocote Premium Potting Mix for Indoor Plants to give your plant the best start possible
Alocasias like a moist, but free draining soil. Make sure the pot has drainage holes and don't allow water to collect in saucers or the base of cover pots. 
Fertilise alocasia with an indoor plant fertiliser like Scotts Osmocote Pour+Feed for Indoor Plants once a month during spring and summer, to encourage strong healthy growth. 
Alocasias prefer a consistently warm environment away from drying drafts from heaters or air conditioners. Mist the leaves regularly, sit their pot on a saucer filled with water and pebbles or try your alocasia in a naturally humid spot like a bathroom or kitchen. 
Shopping List
A alocasia plant
If growing in a pot
If growing in the ground
A potting mix scoop or garden trowel
Growing in a pot
Choose a pot for your alocasia that's no more than 2 times the size of the original nursery pot - make sure it has drainage holes or use a black plastic pot that sits snugly inside a cover-pot or cache pot (pot with no holes). 
Half fill your pot with Scotts Osmocote Premium Potting Mix for Indoor Plants and gently remove the alocasia from the nursery pot and position it into the potting mix, backfill around root ball with more potting mix so that the potting mix is level with, or slightly below, the top of the pot. 
 
Water your new alocasia in well and tip out any excess water from the base of the cover-pot or saucer (if using). Alocasias prefer a moist soil that is never soggy and they are ready to be watered once the top 2-3cm of potting mix is dry to the touch. Never let water pool in the base of cover-pots or in saucers as your alocasia will quickly rot and die if their potting mix remains soggy or waterlogged. 
Growing in the garden
Alocasia can be grown outside in a warm, frost free spot. Choose a part shade spot or somewhere with dappled morning sunlight. The soil should be rich, moist and free-draining. Because alocasias like a high humidity environment, they'll benefit from being planted amongst other plants in a spot protected from strong winds to create a humid environment.
 
Dig the hole twice as wide as the original nursery pot and the same depth. Mix some Scotts Osmocote Compost Premium Soil Improver through the soil at the bottom of the whole. 
 
Remove your alocasia from its pot and position it into the middle of the hole, backfill around the root ball with soil and water your new plant in well. 
 
Mulch around your in ground alocasia to retain moisture and suppress weeds. They'll need regular watering and misting - particularly during warm or dry weather. 
Fertilising & Care
Fertilise alocasia fortnightly in spring and summer with an indoor plant fertiliser to encourage new growth. Use Scotts Osmocote Pour+Feed for Indoor Plants - this is a simple to use 'measure and pour' feed which contains the right balance of nutrients. If you'd prefer a longer term fertilising product, with less applications, apply Scotts Osmocote Controlled Release Fertiliser for Indoor Plants in early spring and again in early autumn - this product feeds for up to 6 months. 
Fertilise in ground planted alocasia with Scotts Osmocote Controlled Release Fertiliser: All Purpose in early spring and again in late summer. 
In the warmer months of spring and summer alocasia will appreciate a more regular watering and a higher humidity. To increase the humidity around alocasia, group them with other plants to create a microclimate or mist them with a spray bottle regularly. You can also sit their pot on a saucer filled with pebbles and water - as the water evaporates it will humidify the air. 
If your alocasia goes dormant during winter, reduce watering and keep the potting mix or soil on the drier side as excess water when they are dormant can cause the rhizome to rot. 
Remove any dead or damaged leaves at the base of the stem to promote new growth. To remove the dust that collects on alocasia leaves, pop it into the shower or bring it outside for a gentle hose off or use a soft, damp cloth to remove stubborn dust gently. 
 
WARNING - alocasias are toxic to pets and humans if consumed. Keep away from pets and children. 
 
Pests & Diseases
Alocasia are relatively pest and disease free, however they are sometimes infested with mites and mealybugs - regularly check at the base of the stems and on the backs of leaves for signs of these pests - use Defender Pyrethrum Insect Spray to control them if needed.
Yellowing leaves could be a sign of too much or too little watering. Check the soil is moist but never soggy, you'll likely be watering weekly during the warmer weather, but much less in the cooler months. 
If your alocasia goes into dormancy during the cooler months you can expect the leaves to die back. Allow them to completely die back before cutting them off because the plant is drawing the nutrients out of the leaves and bringing it down into its roots for dormancy. Cutting the dying off leaves too early can impact future growth.