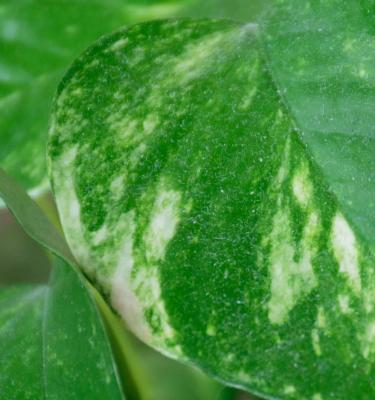 How to grow & care for Dragon Tail
Dragon Tail (Epipremnum pinnatum) is a popular Australian native, mostly grown as an indoor plant. In the wild, it grows along the forest floor of tropical and subtropical Solomon Island rainforests, so in your home give it a warm and humid environment. 
There are variegated and non-variegated leaf forms - the variegated forms have white/green greens and the non-variegated have dark green glossy leaves. Both forms will grow elongated oval leaves when they are young, but as the plant matures older leaves will be forked into 3 sections, like the tip of a dragon's tail. 
Top 5 steps to growing Dragon Tail
Dragon Tail prefers a spot with bright indirect light and high humidity
Use a premium, like Scotts Osmocote Premium Potting Mix for Indoor Plants to give your plants the best start possible 
Dragon Tail can be given a totem to climb up or left to hang down over the sides of pots
Fertilise Dragon Tail with an indoor plant fertiliser like Scotts Osmocote Mist+Feed for Indoor Plants during spring and summer, to encourage strong healthy growth. 
Wipe their large leaves from time to time, to keep them dust free and shiny. 
Shopping List
A Dragon Tail (Epipremnum pinnatum) plant
If growing in a pot:
If growing in the ground:
Garden trowel 
Growing Indoors or in a pot
Choose a pot for your Dragon Tail that's roughly 2 times the size of the original nursery pot - make sure it has drainage holes or use a black plastic pot that sits inside a cover-pot (pot with no holes). 
Half fill your pot with Scotts Osmocote Premium Potting Mix for Indoor Plants and gently remove the Dragon Tail from the nursery pot and position it into the potting mix, backfill around the root ball with more potting mix. 
 
Water your new Dragon Tail in well and tip out any excess water from the coverpot or saucer (if using). Dragon Tail plants like a moist soil that is allowed to dry out between waterings, and they will easily die from root rot if they are left sitting in water. 
Growing outdoors in the ground
If you live in a warm, frost free climate you can grow Dragon Tails outside in a protected, dappled shade spot. Just be aware that your Dragon Tail will naturally want to climb and so it may climb into trees, shrubs or up a fence. If it grows in a direction you don't want it to, you can prune it back and use the pieces you've cut to create new plants! 
 
Improve your soil before planting with plenty of Scotts Osmocote Compost Premium Soil Improver. Mulch around your newly planted Dragon Tail to retain moisture and suppress weeds. 
 
Fertilise in-ground Dragon Tail plants in spring and summer when they are actively growing with Scotts Osmocote Plus Organics All Purpose (including Natives) Plant Food & Soil Improver. 
Fertilising & Care
Depending on your climate and how dry it is inside your home, your Dragon Tail will benefit from a position in a naturally humid environment like the kitchen or bathroom. Alternatively place your Dragon Tail amongst a group of other indoor potted plants so they create their own humid microclimate and avoid having it near heating or cooling vents. 
Fertilise Dragon Tail fortnightly in spring and summer with an indoor plant fertiliser to encourage new growth. Use either Scotts Osmocote Mist+Feed for Indoor Plants- applied to the leaves so the plant can quickly absorb the moisture and nutrients. Or Scotts Osmocote Pour+Feed for Indoor Plants. This is a simple to use 'measure and pour' feed which contains the right balance of nutrients. 
 
Remove dead foliage to encourage new growth. 
Pests & Diseases
Look out for distorted new growth and obvious signs of pests on the undersides of leaves. Aphids and mealybugs can from time to time become a problem on Dragon Tail - use Defender Pyrethrum Insect Spray to control them if needed. 
Repot your Dragon Tail plant every 1-2 years into the next pot size up, with Scotts Osmocote Premium Potting Mix for Indoor Plants to give it plenty of room to grow. 
Fun Fact
Not getting any forked or pinnate "Dragon tail" like leaves? Make sure your Dragon Tail plant has a climbing support or totem (ideally one that is made from moss or coir to retain moisture) - these mature forked leaves are more likely to occur when the plant is climbing up, rather than trailing down!