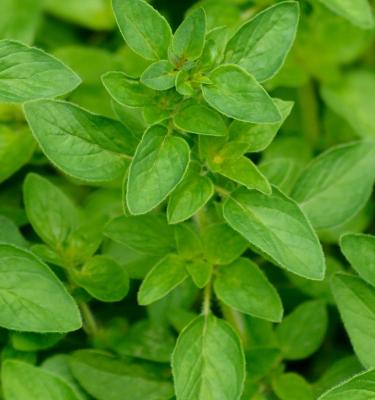 How to grow & care for oregano
Oregano is a sun loving, Mediterranean herb that's perfect for adding flavour to pizzas, pastas and salads. This hardy herb has a spreading growth habit that will grow in most climates so long as its given a warm and sunny spot. If you're trying to grow oregano in a hot and humid climate - make sure it has good drainage and a space with good air circulation. 
Oregano plants are long lived and a bit of care they will continue producing fragrant foliage year after year. 
Grow oregano as a companion plant amongst your vegetables, plant it near the edges of raised garden beds so it can cascade over the side or pop it into pots. 
Top 4 steps to growing oregano 
Choose a warm, full sun spot, with free draining soil in your garden or grow in pots
Oregano needs a free draining soil that is never waterlogged
Harvest oregano sprigs year round when you need them
Prune back oregano after flowering to encourage new growth
Shopping List
Prepare
Oregano is most commonly grown from seeds or potted plants. Choose a full sun spot and make sure the soil is free-draining. Oregano hates waterlogged soil, so if your soil struggles with this growing in a pot or a raised bed is a great option. 
Dig the hole twice as wide as the original nursery pot and the same depth. Mix a small amount of Scotts Osmocote® Compost Premium Soil Improver through the original soil at the base of the planting hole.
Planting in the garden
Preparation
Oregano is a spreading herb, so give it the space to roam in and around taller plants or position it to the edge of a garden bed where it can cascade over the side. 
Prepare the soil for planting by mixing Scotts Osmocote® Compost Premium Soil Improver and Scotts Osmocote® Controlled Release Fertiliser: Tomato, Vegetable & Herb through the top 10-20cm of soil. 
Once established oregano is drought tolerant, however, in summer add a light layer of mulch around oregano plants to retain moisture. 
Growing from seeds
Sow oregano seeds in spring or summer - either directly into prepared garden soil or into pots filled with Scotts Osmocote® Seed & Cutting Mix. Sprinkle the seeds on the surface and push them gently into soil or potting mix surface - no need to completely bury them as the seeds need light to germinate. 
 
Keep the soil or potting mix moist, but not soggy, while the seeds germinate which should take 7-14 days. 
 
Transplant the seedlings into your garden, if started in pots, once they have 4-6 sets of leaves or are around 10-15cm tall. 
 
If you've direct sown oregano seeds into your garden, then thin to allow 30-50cm between plants. 
Growing from potted plants
Plant potted oregano plants into prepared soil in a full sun spot. Dig the hole twice as wide as the original nursery pot and loosen the soil at the bottom of the hole. Plant the oregano into the centre of the prepared hole and backfill around the root ball. Water in well to settle it in.
Planting in pots
Oregano can be grown in medium to large pots, with plenty of drainage holes, that are a minimum of 30cm deep by the same width. 
Fill the pot with Scotts Osmocote® Plus Organics Tomato, Vegetable & Herb Potting Mix, before removing the oregano plant from its nursery pot and planting into the prepared pot. Backfill around the root ball and water in well. 
In summer add a light layer of open organic mulch to retain moisture during the warmer months.
Harvest & Maintenance
Harvest oregano 'sprigs' when you need them - cutting them off using sharp scissors or secateurs. Regular harvesting will help keep the plant compact and neat. 
After flowering use hedging shearers to prune off spent oregano flowers and tidy the plant up. If you live in a cooler climate oregano may look a bit miserable over winter - give it a hard cut back in early spring to bring on lush new growth. 
Oregano doesn't need a lot of fertiliser, but will benefit from a dose of Scotts Osmocote® Controlled Release Fertiliser: Tomato, Vegetable & Herb in spring. 
Pests & Diseases 
Oregano is rarely attacked by pests or diseases. The biggest problems may occur if the plants don't have enough sunlight, the soil is waterlogged or the climate is too humid. 
Make sure oregano is grown in areas with good drainage and full sun. If your oregano plants have good airflow around them and you avoid overhead watering - it can help reduce the risk of fungal problems caused by high humidity. 
If slugs and snails become a problem use beer traps (saucers filled with beer) or sprinkle Defender™ Snail & Slug Pellets around your plants.